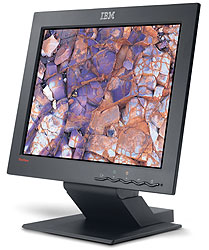 IBM today announced the latest additions to its line of ThinkVision monitors, the IBM ThinkVision L150 and L150p -- both 15-inch high-end flat panel LCD monitors offering ThinkVantage Design characteristics that provide customers with increased flexibility, comfort and productivity.
In a continued effort to make computing more efficient and hassle-free, both monitors feature an on-screen display enabling fast access to frequently used functions and a remarkable ergonomic design, giving users greater flexibility of viewing positions.
"IBM's line of ThinkVision monitors is built around the idea that technology must make computing more productive and effective for the end-user," says Bob Galush, vice president, PC product marketing, IBM Personal Computing Division. "The new L150 and L150p were designed based on customer feedback to improve user experience and performance."
The L150p features an ergonomic, cantilever stand that appears to make the display float toward the user, offering smooth, effortless tilt and lift adjustments. The stand, an IBM original ThinkVantage design, keeps the base stationary while allowing the monitor to swivel 135 degrees in either direction. The lift function provides variable height adjustment, so whether the user is 6-foot-4 or 4-foot-6, the stand will adjust to a comfortable viewing position.
The L150 and L150p also feature convenient direct access buttons for Brightness, Automatic Image setup and Input selection. One press of the Automatic Image setup button optimizes the image quality providing quick and easy monitor setup. Input selection allows the user to switch between two system applications at the touch of a button.
Both monitors feature an on-screen display, allowing the user to navigate through functions by providing both picture and text descriptions. The L150p also offers a 400:1 contrast ratio and analog or digital system attachment. Dual input allows the monitor to be attached to two systems simultaneously.