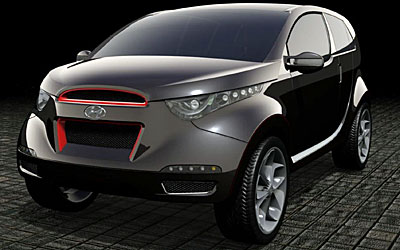 At the 2003 Tokyo Motor Show which opens October 22, Hyundai will unveil NEOS-II a new Crossover Utility Vehicle (CUV). A creation of the company's Japan Design Center, NEOS-II (NEologism Of Style) is the second major concept to be executed by the Chiba-based center.
In providing a hint of Hyundai's future design direction, this four-seater also reawakens the sense of wonder and discovery in motoring.
The futuristic interior of Hyundai Neos 2 is fitted with advanced technology while the front seats offer abundant space and comfort that surpasses that of luxury cars. Exterior equipment includes an Adaptive Forward Lighting System and an innovative multi-link rear sliding door for easier entry and egress.
Hyundai motor vehicles are sold in 166 countries through 4,504 dealerships and showrooms.