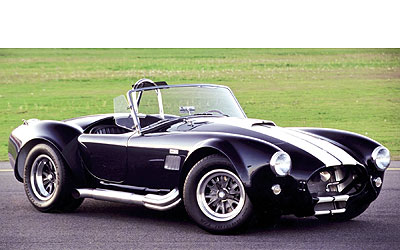 The Hydrogen Car Company (HCC) announces the launch of its flagship vehicle: the Hydrogen Shelby Cobra. Conceived and built by legendary automotive icon, Carroll Shelby, the Shelby Cobra has captivated the imaginations of automobile enthusiasts all over the world since 1962. Operating on a hydrogen internal combustion engine (H2ICE), the Hydrogen Shelby Cobra is the result of a partnership between HCC and Carroll Shelby Licensing. The first of HCC's vehicles available to the public, the Hydrogen Shelby Cobra runs off clean burning, domestically generated hydrogen fuel and is available for order immediately.
S. David Freeman, HCC's Chairman and clean technology pioneer, states, "We have an historic opportunity to fundamentally change the fuel we use to power our cars. There is a dominant misperception that something is wrong with American cars. It is not the cars that are the problem, but rather the fuel. We do not have to wait decades until hydrogen fuel cell vehicles become viable. The hydrogen internal combustion engine can help us to end our dangerous dependence on fossil fuels today, and it will serve as a bridging technology to the fuel cell."
HCC's vehicles are based not on an experimental technology, but rather on the highly developed, one-hundred-year-old internal combustion engine. The hydrogen internal combustion engine (H2ICE) uses existing, proven technologies to deliver the environmental and fuel security benefits of a hydrogen fuel cell, but at a fraction of the complexity and cost. HCC's H2ICE vehicles have no Carbon (neither CO nor CO2) and super low Nitrous Oxide (NOX) emissions. Furthermore, because the supply of hydrogen is virtually unlimited domestically, employing H2ICEs will contribute to fuel security.
The Hydrogen Shelby Cobra is assembled at Carroll Shelby's engine facility in Gardena, CA. It has the superb power and drivability associated with the Shelby Cobra. These Shelby CSX 4000 Series Hydrogen Cobras come with the option of a Shelby 427 FE V8, 7.8 liter H2ICE or a Ford 351 V8, 5.8 liter H2ICE and either a composite or aluminum body and begin at $149,000.
HCC has been invited to display the Hydrogen Shelby Cobra during the West-coast leg of this summer's Lollapalooza tour, the educational component of which ("The Revolution Solution") will focus on clean technologies and transportation. HCC expects to make available to consumers a hydrogen version of the Shelby Series 1 as well as a line of H2ICE Ford Trucks and Sport Utility Vehicles (SUVs) in early 2005.
Hydrogen-powered vehicles will utilize an expanding refueling infrastructure that is being developed throughout California and the U.S. In California alone, there are 14 stations and an additional 16 are scheduled to come on line in 2004-2005. Supporting their development, California Governor Schwarzenegger recently signed an Executive Order creating a public-private partnership to realize the hydrogen highway, which will result in 170 stations being added to the state's major freeways by 2010. Illinois has also announced a hydrogen highway plan and other states are poised to follow.
HCC's strategic partner is Stuart Energy Systems Corporation, the world's leading developer and supplier of integrated hydrogen infrastructure solutions, including hydrogen fueling stations, that generate hydrogen fuel from water electrolysis. HCC will offer its customers the option of bundling a H2ICE vehicle with a Stuart Energy Station for fueling. Commenting on the launch of the Hydrogen Shelby Cobra, Jon Slangerup, President and CEO of Stuart Energy, said, "Stuart Energy is excited to team with two legends, Carroll Shelby and David Freeman, in this groundbreaking initiative. We believe the commercialization of H2ICE vehicles will accelerate the demand for our innovative hydrogen infrastructure products."