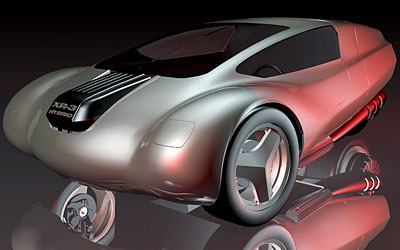 Product design firm Robert Q. Riley Enterprises will soon release its XR-3 plug-in hybrid: a two-passenger, three-wheel sports car.
Designed to be assembled by someone with average mechanical abilities and no prior experience, the all-wheel drive vehicle will be available as a kit or plans for complete do-it-yourself construction.
"We've made a technology leap by designing a super-simple hybrid power system," said Robert Q. Riley.
While the front wheels are powered by a three-cylinder diesel engine, a single rear wheel uses an electric motor run by a lithium-ion battery.
Driving on power from its diesel engine, the XR-3 can achieve fuel economy of 125 miles per gallon. However, when the diesel and electric power systems are combined in a hybrid driving mode, fuel economy can exceed 200 miles per gallon over an 80-mile trip.
A simple three-position switch allows the driver to select between battery-only, diesel-only and hybrid driving modes. The diesel engine can remain off for local trips, since power from the advanced lithium-ion battery pack gives the car a battery-only range of up to 40 miles.
Robert Q. Riley designs and recreation products.