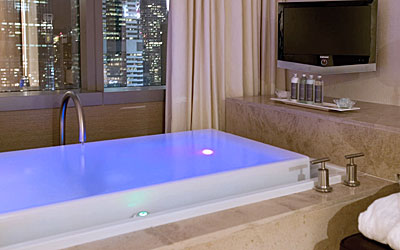 Westin's new Renewal Suite features chromotherapy, digital art, a spa bath, and tranquil water, light, and music features throughout.
Designed to provide an environment where guests can rebound from the rigors of the road and perform at their very best, the 1,200-square foot suite starts at $2000 per night. Elements of the concept suite will be rolled out to Westin hotels around the world. The suite is a luxe oasis of soothing calm in the hustle and bustle of Times Square.
Created to provide an exhale moment, guests will enter the suite through a unique decompression chamber with a tranquil floor-to-ceiling water feature, renewal-themed music and Westin's new signature white tea scent diffused into the environment.
Ambient light washes the wall in the dining area through a modular wall sculpture containing nearly 100 LED votive candles, one of the most striking features of the suite.
Special lighting features designed to soothe the senses are found in every room and guests will also be able to customize interactive, color calming artwork set to music.
Guests can re-energize their bodies in the suite's Zen-like home gym, featuring sustainable bamboo flooring that is sprung to minimize joint stress, yoga mats and accessories as well in-room workout equipment.
The sumptuous spa bath features an oversized hydrotherapy infinity whirlpool tub by Kohler. The bath area features special chromotherapy, dimmable cove lighting, a flat screen TV, steam shower with wall mounted bodysprays, cashmere slippers and robe as well as an array of crystals, bath sugars and extra towels.
The bedroom features a bed enhanced with special memory foam bolster pillows that conform to the neck. Other bedroom features include soft cove lighting and light therapy and a Nordstrom cashmere throw.
The suite's specially designed renewal mini-bar center and purification station features healthy snacks, organic wine, vitamin-infused gummy bears and jelly beans and special items like stress and energy patches, feet masks and aromatherapy products.
Natural elements, tactile fabrics, botanicals, music, scent, art, and technology provide a signature environment in the Renewal Suite, which also features homeopathic and spiritual touches throughout.
Technology and entertainment converge throughout as sleek Samsung LCD TV's broadcast an array of renewal-themed DVD's and guests can dock their iPod and call up play lists tailored to their mood or activity.
Guests to the Renewal Suite will be assigned their own Westin Host, described as an ambassador, a liaison, a fixer and an agent, with the mission of making stays stress-free and helping guests feel relaxed, re-energized, and renewed.