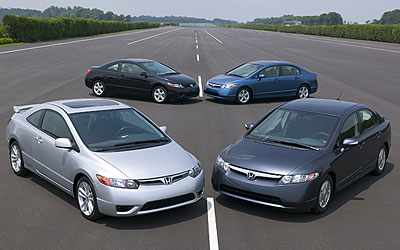 The Honda Civic has been the best selling retail compact car in America for the past nine years. As the Civic has been re-invented, each new model has set new standards in the automotive industry with its innovative packaging, attractive styling, high fuel economy, low emissions, fun-to-drive performance, reliability, and safety.
The 2006 Civic represents a transformation of design and dynamics. Multiple powertrains for 2006 range from 197-horsepower high performance to 50 mpg gas-sipping hybrid to an all-around performer with two body styles, representing one of the most diverse vehicles in the industry. An expressive and futuristic design with exciting performance and a dedication to providing advanced safety technology set the Civic apart from the competition.
New powertrain technologies include a new, even more intelligent i-VTEC engine with advanced valve control, and a fourth generation IMA Civic Hybrid powertrain that delivers higher performance and improved fuel economy with lower emissions
Some vehicles in the compact segment can provide fun-to-drive performance, or safety, or environmental performance; but only the Civic delivers these traits simultaneously along with value, style and sophistication - with models custom tailored for a performance enthusiast, a technology enthusiast, and a mainstream buyer.
Both Civic Sedan and Coupe have entirely new dimensions that make each vehicle wider and shorter in height for a sleek, futuristic appearance that also benefits packaging efficiency, handling and ride quality.
For 2006, Honda is advancing multiple powertrain technologies to meet the needs of a diverse Civic customer by offering a 197-horsepower Civic Si, a 50 mpg Civic Hybrid, and a stylish and sophisticated Civic Sedan and Civic Coupe. No other vehicle in the segment covers as much ground as the Civic with its two body styles, three engines, four transmissions and five trim levels. All totaled, there are over 148 model, trim, option and color combinations for the 2006 Civic.
Some cars offer sporty performance across an entire model range, but compromise on fuel economy, ride comfort and/or safety. Others provide good fuel economy and ride comfort, but offer minimal fun-to-drive performance. The Civic brings it all together by combining performance, fuel economy, safety technology, and sophistication.
The Civic Si showcases the high-performance potential of the Civic platform to the highest degree. The Civic Si can carve through twisty roads like a sports car, sprint from 0-60 quickly and still provide the everyday practicality of a Civic.

Motor Trend magazine selected the Honda Civic as the 2006 Motor Trend Car of the Year. "Honda deserves a standing ovation for not playing it safe again," said Motor Trend editor-in-chief Angus MacKenzie. "With the sizzling Si, a sleek coupe, an elegant sedan and a Hybrid that averages 50 miles per gallon, each model shines through with what Motor Trend looks for when crowning Car of the Year."