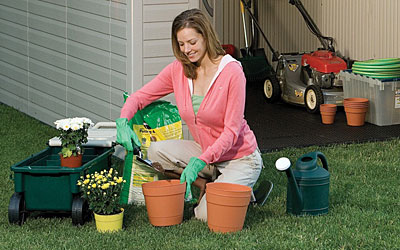 Spring is right around the corner with sunny days, mild temperatures, and spring-cleaning. Before diving into spring-cleaning, it is important to take some time to de-clutter. Getting rid of the unnecessary clutter lying around the house can simplify the cleaning process and help maintain the clean look of the home or business longer. De-cluttering can also open up new spaces in your house or garage.
A disorganized house or business can cost a lot of time and money for its owner. Consider accidentally buying products for your home or business that you already have hiding under a pile of things. When it comes to managing your home or your business, getting organized is crucial.
Betty Mills, already well known for carrying the top metal and vinyl shed brands such as Arrow, Duramax, Suncast and Lifetime, has recently extended its outdoor shed selection with Handy Home Products, a line of ready-to-assemble wooden storage and recreational building kits.
When choosing an outdoor storage kit, customers need to consider several aspects. "One thing customers need to remember is that outdoor storage buildings can be more than simply utilitarian products," explained Brad Kaiser of Betty Mills. "Outdoor storage buildings can affect the look of the property and the neighborhood. Thus, it is important to choose an outdoor shed that harmonizes with the design of your home. For a simple and modern look, I would recommend an Arrow or Duramax model. If you want to combine the benefits of a sturdy steel-reinforced construction with a contemporary All-American design, Lifetime or Suncast both offer a wide selection of popular models. If you have a country-style house, wood storage buildings from Handy Home Products will nicely complement your home. When it comes to customization, wooden buildings are usually the ideal choice since these structures can be painted and customized with accessories to reflect the unique taste of the owner and match the design of the house."