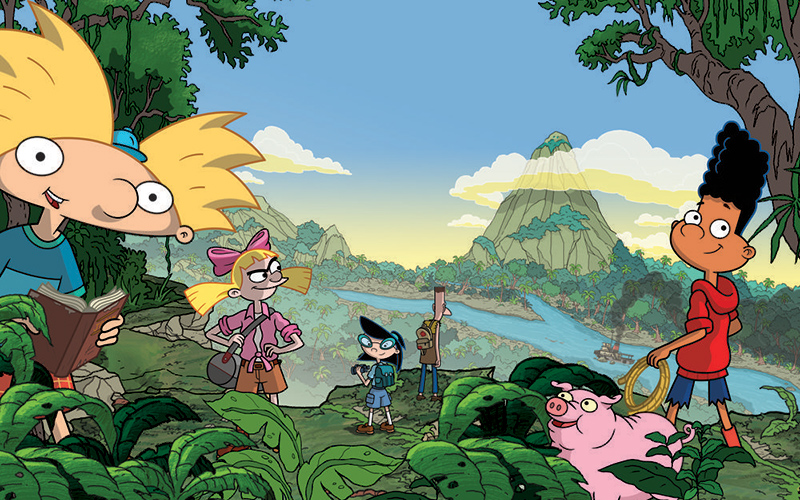 Hey Arnold!: The Jungle Movie will premiere as a simulcast on Nickelodeon, TeenNick and Nicktoons on Friday, November 24, from 7:00-9:00 p.m. (ET/PT). Featuring a storyline picking up where the original TV series ended in 2004, Hey Arnold!: The Jungle Movie follows the kids on an epic field trip where Arnold and his friends embark on a quest to achieve his dream of finding his missing parents.
Co-written and executive produced by the TV series' original creator Craig Bartlett, Hey Arnold!: The Jungle Movie features original voice cast members Francesca Marie Smith (The Prince of Egypt) as Helga and Anndi McAfee (Tom and Jerry: The Movie) as Phoebe, alongside dynamic new voice talent Mason Vale Cotton (Mad Men) as Arnold and Benjamin "Lil' P-Nut" Flores, Jr. (Game Shakers) as Gerald.
Lane Toran (original voice of Arnold) and Jamil Walker Smith (original voice of Gerald) will supplement the returning cast by lending their voices as Che and Paulo, two members of the boat crew in San Lorenzo, and Alfred Molina (Spider-Man 2) stars as resident villain, Lasombra.
Additional voice actors reprising their famed roles include: Justin Shenkarow (Recess) as Harold; Olivia Hack (Family Guy) as Rhonda; Nika Futterman (The Boxtrolls) as Olga; Dan Butler (Frasier) as Mr. Simmons; Dan Castellaneta (The Simpsons) as Grandpa; Tress MacNeille (The Simpsons) as Grandma; Antoinette Stella (Melrose Place, writer) as Stella; Carlos Alazraqui (Happy Feet) as Eduardo; Dom Irrera (Back at the Barnyard) as Ernie; Maurice LaMarche (Futurama) as Bob Pataki; Kath Soucie (Rugrats) as Miriam; Danielle Judovits (Toy Story) as Big Patty; Danny Cooksey (The Lorax) as Stoop Kid; Jim Belushi (According to Jim) as Coach Wittenberg; and Craig Bartlett as Miles.
New voices include: Gavin Lewis (Real Boy) as Eugene; Jet Jurgensmeyer (Shimmer and Shine) as Stinky; Aiden Lewandowski (Comedy Bang! Bang!) as Sid; Laya Hayes (Santa Hunters) as Nadine; Nicolas Cantu (The Impossible Joy) as Curly; Wally Wingert (Sonic Boom) as Oskar; and Stephen Stanton (Star Wars Rebels) as Pigeon Man.
Debuting in 1996, Hey Arnold! helped usher in a new era of groundbreaking animation on TV, joining the ranks of landmark Nickelodeon hits, including Doug, Rugrats, The Ren & Stimpy Show, Rocko's Modern Life, SpongeBob SquarePants and more. Hey Arnold!:The Jungle Movie is one of Nickelodeon's three animated properties from its rich library reimagined for today's audience, including the upcoming TV special Rocko's Modern Life: Static Cling and Invader Zim.