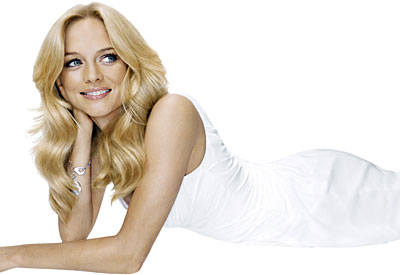 Actress Heather Graham will represent Garnier Color as the haircolor brand's new celebrity spokesperson. The head-turning Graham will be featured in a national TV and print advertising campaign for the haircolor beauty product beginning this month.
"I am thrilled to be associated with such a fun brand as Garnier 100% Color," says Heather Graham. "I like to think of myself as a fun, passionate person, and with 100% Color, I can reflect those qualities right down to my haircolor. I travel the world a lot in my work, and I see Garnier everywhere -- it's such a powerhouse. I like that."
"It's only natural that we would pair Heather Graham with 100% Color," says Cheryl Vitali of Maybelline New York-Garnier. "Her vivid, lively beauty and surprising sense of humor is the perfect complement to this exciting brand, which has truly shaken up the haircolor category."
Graham, whose recent television appearances include Scrubs and Arrested Development, counts among her film work roles in Austin Powers and Boogie Nights. The energetic Graham is currently shooting several films slated for release in 2005: Cake and Mary.
Graham is also set to star in the ABC comedy pilot Emily's Reasons Why Not.
Garnier hair, skin, and sun care products are scientifically developed and enriched with selected natural ingredients.