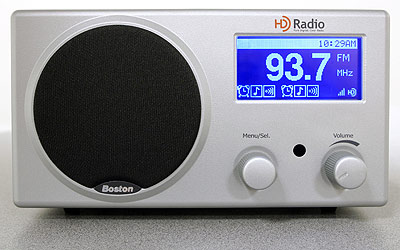 Radiosophy's new fully-featured entry-level HD Radio receiver will begin shipping in May 2007.
The HD100 features a line-in input which allows users to play MP3 and other audio devices through the radio speakers. Also, the receiver has a scan HD feature allowing the tuner to scan only for HD Radio stations in the listening area. When the radio detects a digital station, an indicator light blinks until the receiver locks on that station. A scan all feature lets users scan for both analog and HD stations.
The HD100 has all the common clock radio functions – alarm, snooze, and sleep and users can select up to five FM station presets and five AM station presets. Additionally, the receiver allows for the connection of external AM and FM antennas.