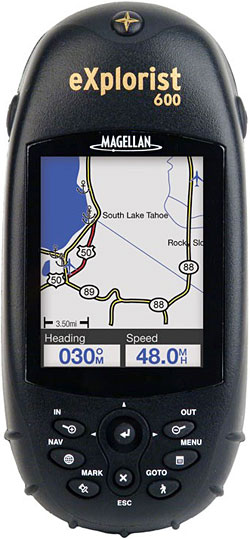 Magellan's new color handheld GPS receiver offers a combination of features for outdoor exploration. The Magellan eXplorist 600 includes a barometric altimeter, a barometer for gauging weather conditions, a thermometer and three-axis electronic compass, which eliminates the need to be in motion to gain a direction heading.
The receiver is designed with other advanced features to simplify GPS navigation. It provides unlimited memory via an optional Secure Digital (SD) memory card; a high-speed USB data port for uploading coordinates and optional maps; plus a PC-style file management system that allows users to create, store, and manage multiple files, folders, and directories of personal navigation data. The receiver also provides a tool to simplify geocaching. The Magellan Geocaching Manager software allows users to easily load GPS coordinates directly from the Internet to the eXplorist 600.
The WAAS/EGNOS-enabled, 14-parallel-channel GPS receiver delivers 3-meter accuracy.
"I really enjoy the eXplorist 600," said Bryan Roth, co-founder of Geocaching.com, after testing the newest Magellan handheld. "The form is extraordinary and the features, like vertical profiles, are especially valuable. The screen is beautiful and the satellite acquisition time is fantastic."
Available at $449.99, the eXplorist 600 equips hikers, hunters, boaters, geocachers and other outdoor enthusiasts with a multitude of tools to tackle any land or water navigation.