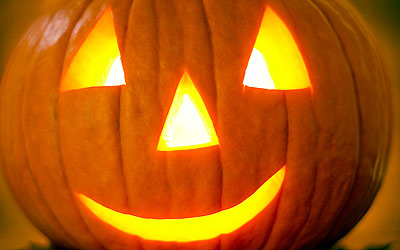 It's the Great Pumpkin, Charlie Brown (Peanuts) - Every year, as the leaves start turning gold and the night air gets chilly, children all over the world begin dreaming of the Great Pumpkin... Well, at least one faithful child does. Poor Linus. While Charlie Brown, Lucy, Snoopy, and the gang make preparations for trick-or-treating and Halloween parties, this stalwart believer risks their ridicule to write his annual letter to the mystical orange orb, in hopes that this year he'll be able to catch sight of his hero as he rises from the most sincere pumpkin patch around to fly through the air with his bag of toys for all the children. For over 35 years, children have eagerly anticipated Halloween, not just for the tricks and treats, but because they know their favorite television special will be aired. It's the Great Pumpkin, Charlie Brown is based on this TV program, so now fans can enjoy the Halloween antics of the Peanuts gang any time.
Pumpkin Eye - All the glorious, spooky, swoopy delights of Halloween congregate on one street for one perfectly bone-chilling night in Caldecott Honor artist Denise Fleming's splendid Pumpkin Eye. Gorgeous, thick pulp paintings depict jack-o'-lanterns, bats, dragons, and toothless hags, while clever, memorable rhymes capture the very essence of Halloween: "Trick or treat-- / pounding feet, / wretched witches / roam the street." Fleming's evocative language and imagery fill the pages with clacking bones, blood red nails, muffled moans, eerie shadows, and the burning wicks of candlesticks. Her unusual illustrations, made by pouring colored cotton fiber through hand-cut stencils, are just right for the subject matter, lending a thick, dark, mysterious quality to the trick-or-treaters, moonlit night, and close-up pumpkins.
Which Witch Is Which - A clever idea executed with exceptional imagination and wit, this guessing-game book from Judi Barrett and Sharleen Collicott asks readers to decide which witches are doing what in a series of colorful, densely illustrated witchy tableaus. For example, after viewing a ludicrously well-dressed sextet of bear witches who are riding atop a fuzzy, veiled dinosaur wearing pink garters, we're asked, "Which witch has an awful itch? Is it the one doing a jitterbug? Is it the one lying on the rug? Is it the one looking very smug? Or is it the one playing with a pug?" These often open-ended questions keep the guessing interesting throughout 13 different scenes, but it's Collicott's richly bizarre style and compositions that discourage you from ever turning to a new page. Each group of witches hails from a different species (newts, cats, cows, etc.) and seems loosely involved in some central activity (hitching a wild boar to a wagon, quilting, putting on a play).
Awful Ogre's Awful Day: Poems - How awful is this green-haired, one-eyed ogre? So awful his name is Awful Ogre. Fortunately, he takes some time out of his awfully busy ogre schedule to describe his routine, poem by poem, from the moment his pet rattlesnake awakens him to a touching bedtime scene--as rhythmic and tender as Goodnight Moon, but with scorpions and cacti. As it turns out, the ogre has many delightful hobbies, from dancing ("I dance with abandon, / Bravura, and zest, / I carom off boulders / And beat on my chest") to singing "stirring ogre melodies" to bone collecting to boasting to watching TV.
Alice and Greta's Color Magic - Alice and Greta are two witches with very different world views. Alice's sweetness is like a splinter under rabble-rouser Greta's skin. Never content to live and let live, and stubbornly forgetful of her previous comeuppances (as seen in Alice and Greta and Greta's Revenge), Greta decides to stir up a batch of trouble. In a truly diabolical stroke of genius, she remembers that Alice loves colorful things: her turquoise and pink pet butterfly, red apples, the blue sky, orange balloons... Greta waves her wand and casts a spell to remove the colors from the world--all except the yucky green that she herself favors. Of course, Greta has forgotten that even nice witches know how to get revenge, and soon the tables are turned. But then both witches go too far, and discover the risks of invoking an eye for an eye, a tooth for a tooth.
Plumply, Dumply Pumpkin - "Peter's looking for a pumpkin, a perfect plumply, dumply pumpkin. Not a lumpy, bumpy pumpkin. Not a stumpy, grumpy pumpkin, but a sunny, sumptuous pumpkin." And given how gosh-darn cute Peter is--as gosh-darn cute as a young tiger can get, really--you'll instantly find yourself pulling for him as he goes out into the fields to get his gorgeous gourd.
Hoodwinked - Despite the theme of witches and creepy critters, this is a very uncreepy, sweet, and unthreatening picture book suitable for children just getting into things spooky. Mitzi is a right little witch. She lives in a sort of permanent Halloween, surrounded by cobwebs and dubious-looking aunts in pointy hats. She wants a pet--a really, really creepy pet, please--but, despite repeated broomstick-flights to Cackle & Co. pet store, she just can't get one that satisfies. Finally a kitten named Hoodwink shows up at the door, is almost turned away on account of being horribly cuddly and nice... and turns out to be just perfect.
Scratch and Sniff: Halloween - Who is brave enough to smell the noxious-looking witch's brew? How about taking a whiff of some scary skull pizza? Or do bobbing apples and a pink-striped lollipop seem more your idea of a Halloween treat? Whatever your olfactory fancy, this little Scratch and Sniff Halloween board book has it all. Pumpkins, bats, bed-sheet ghosts, and other classic Halloween icons virtually jump off the page, thanks to DK Publishing's vivid, crisp photographs--and the scents that waft noseward with even the most delicate of scratches. Five two-page spreads, with five powerful fragrances (and minimal text), should keep the youngest trick-or-treater happy while awaiting the big day.
Room on the Broom - There's always room for one more on this affable witch's broomstick... or is there? In another mild-mannered tale from the creators of the Smarties Prize-winning picture book, The Gruffalo, a witch and her happily purring cat fly through the wind on their broomstick, without a care in the world, until the witch's black hat blows away. In the process of retrieving it, they pick up another passenger, a polite and helpful dog. All goes well until the witch's hair bow flies off. And then her wand. And then real disaster strikes--in the shape of a big red dragon, a broken broom, and some very important (but notably absent) friends. Julia Donaldson's story, though not earthshaking in plot or rhyme, is a pleasant way to pass the time leading up to the witching hour (Halloween!) especially when paired with the friendly illustrations by Axel Scheffler. Readers will especially love the final illustration, in which our heroes solve their space problems once and for all.