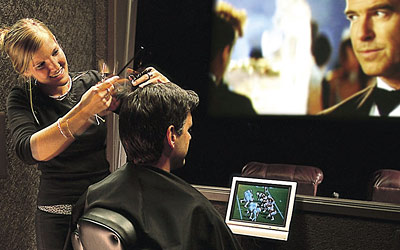 FX Studios, the nation's first large format, ultra high-fidelity salon and spa, it is always quiet on the set in our sound-proof studios, unless you want to turn up the volume on a first-rate Hollywood movie playing on one of 16 screens.
Offering a range of services from deep tissue massage to men's haircuts starting at $25 all set in a state-of-the-art atmosphere, FX Studios is the home of the incomparable experience.
FX was built for everyone who knew there had to be a better way to deliver some of life's most basic necessities.
Under its 11,500 square foot roof, FX Studios features 19 individualized hair studios, 11 esthetic and wellness studios, 4 home theater screening rooms with reclining leather chairs, and 31 LCD screens.