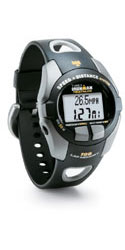 Timex today announced major improvements in the size, battery life and performance of its athletic wrist instruments, with the introduction of the new Ironman Speed + Distance System. Teaming up with global positioning system (GPS) industry leader Navman, Timex now makes it possible for runners, skiers, kayakers, mountain bikers and anybody covering distance in the great outdoors to accurately answer two all-important questions -- how far and how fast.
The Timex Ironman Speed + Distance System consists of two pieces -- a Navman GPS receiver and a Timex watch/monitor that are connected wirelessly by a radio signal. The receiver captures position data from GPS satellites and transmits precise, real-time speed, distance and pace readings to the watch. While GPS technology is most commonly used as a navigational tool, the satellites are equipped with atomic clocks, making it possible to also get speed and distance data with near-perfect accuracy.
In addition to the standard Speed + Distance unit, the Navman unit works with the Timex Ironman Bodylink System. The Bodylink System is a network of devices worn on the body that together act as a single information and sport monitoring system. Bodylink offers athletes and fitness enthusiasts alike the unprecedented ability to track, store and analyze several key indicators of personal performance. Individual components of the system include:
One or more sensors to measure heart rate, speed, distance traveled and other data related to physical activity.
The Ironman Performance Monitor.
A data recorder to store information for post workout/event analysis and review.
A leading GPS technology and product innovator, Navman engineered the receiver to have a 233% longer battery life and smaller form factor while continuously tracking GPS, using the latest microelectronics technology. The GPS receiver can be strapped on an arm or attached at the beltline, rendering the receiver's slim profile and lightweight design nearly inconspicuous to the user. Information is transmitted from receiver to the watch via a digital FM signal, making it extremely resistant to interference from sources such as overhead power lines.
"Navman and Timex are well-matched partners for adding innovative products and value to the consumer," said Mark Bowman, executive vice president of Navman's OEM Division. "We are pleased to be associated with an industry leader like Timex and to deliver quality GPS products to support athletes using the Timex Speed and Distance System."
"Timex is excited about working with Navman, as the company has such a rich history of innovation in the field of GPS," said Wilson Keithline, director of advanced products for the Timex Corporation.
The new Ironman Speed + Distance System will become available in the retail market this month throughout the world.
Timex is the largest selling watch brand in America.
Navman designs, manufactures, and markets high reliability GPS products for the marine, personal GPS, fleet management, and OEM markets.