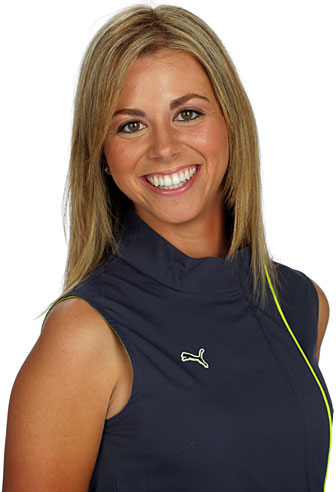 Professional golfer Erica Blasberg will wear Puma's new performance golf apparel and footwear collection on the course during this year's Ladies' Professional Golf Association Tour. Blasberg is a strong competitor with a sense of style and fashion that fits with the Puma brand.
"Erica's impressive athletic abilities on the golf course matched with her fun, free-spirited personality make her a natural fit for the Puma brand. She is someone who is not afraid to be bold and different and we're excited to work with her as we launch our first Puma Golf Collection," said Puma's Jay Piccola.
As part of the agreement, Erica will wear the brand's PG GTX spikes with 8 CHAMP Scorpion Stinger spikes featuring the CHAMP Q-LOK System. Erica will also be dressed in Puma Golf apparel pieces from the women's collection with special colors designed just for her appearance on the tour.
"I have always admired Puma for their innovations in sports performance, fashion and design. The Puma Golf collection truly speaks to the needs of a golfer and I am impressed by it's technical merits that will help a golfer succeed on the course," said Erica. "I am passionate about working with Puma to add some style, color and vibrancy to the game is very exciting."
Erica Blasberg began golfing at the age of five. She was noticed for her skills on the American Junior Golf Association, earning such honors as a three-time first team Polo All American and winner of the 2002 Rolex Tournament of Champions.
At the University of Arizona, Blasberg was a two-time All-America from 2003-04, named 2003 NCAA Freshman of the Year and recorded six collegiate tournament wins.
In 2004, Blasberg turned pro and played on the Futures Tour, where she ranked four top-ten finishes during the events, including a remarkable win at the Laconia Savings Bank Futures Golf Classic.
In 2005, Blasberg joined the LPGA after tying for 32nd place at the LPGA Final Qualifying Tournament, earning non-exempt status.
Erica will be featured in Puma North America's television and print advertising campaign to launch Puma Golf this spring. Erica will also make appearances on behalf of the brand at national and international events such as the PGA Merchandise Show.
Puma was established in Herzogenaurach, Germany in 1948.