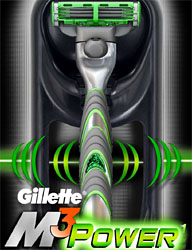 Gillette today launched M3Power, a revolutionary powered wet shaving system for men. M3 Power -- a MACH3 innovation -- combines breakthrough blade and razor technologies with innovative engineering for a totally new shaving experience that delivers the world's best shave.
M3Power outperforms all men's shaving systems, including MACH3Turbo -- the world's leading razor -- in closeness and comfort, by shaving more hair, closer in one easy power stroke.
The M3 Power razor delivers gentle pulses to the shaving cartridge that stimulate hair upward and away from the skin, making it dramatically easier to shave more thoroughly than ever before. The M3Power razor works synergistically with M3Power's proprietary blades, which incorporate the company's most advanced blade technology, to provide a new level of glide and comfort. The M3Power system operates under 62 patents.
"Building on the tremendous success of the MACH3 franchise, we're powering up the world's best shave and providing a superior shaving experience," said Peter K. Hoffman, president, Blades and Razors, The Gillette Company. "We expect this new system to substantially fuel the value of the blade and razor category, in the same way that MACH3Turbo has driven growth over the past two years."
In addition to its revolutionary powered razor, Gillette M3Power includes other innovations that contribute to a superior shaving performance. The proprietary blades are enhanced by a new coating, called "thin uniform telomer," which provides a perceptible improvement in shaving comfort throughout the life of the blade. Other features include a lubricated strip infused with Vitamin E and Aloe, and a superbly engineered handle with strategically placed gripping surfaces that enable men to shave confidently and safely at any angle. M3Power also is shower-safe, so men can shave wherever they prefer.
Consumer testing among hundreds of men confirms that M3Power is the new gold standard in shaving performance. M3Power was significantly preferred over the current best-performing shaving system, MACH3Turbo, which beat Schick Quattro by a 2-to-1 margin.
"The performance of M3Power is unprecedented," said Mr. Hoffman. "Consumer testing, conducted according to the industry's most rigorous standards, concluded that M3Power is preferred overall and on every one of the 68 shaving attributes that were tested, including closeness, comfort, efficiency, safety and less irritation. M3Power is clearly the world's best shaving system."
Gillette M3Power will be available in North America in May 2004 in food, drug, convenience and mass merchandise stores.
Gillette is the world leader in male grooming, a category that includes blades, razors and shaving preparations.