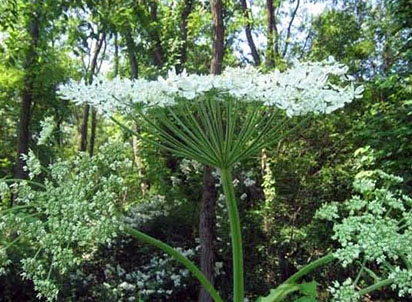 Gardeners, landscapers, farmers, hikers and others who spend time outdoors are being urged by the state agriculture department and the University of Massachusetts Amherst to watch out for an invasive, noxious weed that has been found in Massachusetts. The giant hogweed, a native plant of the Caucasus region of central Asia and found in the western Massachusetts town of Granville last week, can grow to 15 feet tall. The sap can cause severe skin irritation, blisters and swelling and contact with the eyes can cause temporary or permanent blindness.
The giant hogweed was introduced into the United States as an ornamental plant and has become established in New York, Pennsylvania, and Washington state. Infestations have also been reported in Maine, Michigan and Washington D.C., according to the U.S. Department of Agriculture's Animal and Plant Health Inspection Service. State agriculture inspector Alfred Carl found the weed on a routine inspection in Granville.
"This plant is bad news," says Craig Hollingsworth of University of Massachusetts Extension. Hollingsworth coordinates the state's Cooperative Agricultural Pest Survey. "We have been on the lookout for giant hogweed for a couple of years. It has big seeds and is spread by birds, but the main culprits are gardeners."
Hollingsworth says that the plant can be spectacular, growing up to 15 feet tall with four-inch stems that have purple splotches and leaves five feet across at its base. It has large umbrella-shaped flowers. He says that the plant has been irresistible to some gardeners who have imported it to grow in their gardens.
A similar related species, cow parsnip, is often mistaken for giant hogweed. Cow parsnip differs in that it reaches a maximum height of six feet and has no purple on its stems. Giant hogweed seeds are used in a Middle Eastern spice called golpar.
Brad Mitchell, Director of Regulatory Services for the state Department of Food and Agriculture, says that it is important to remove giant hogweed wherever it is found. "We're concerned about the potential consequences if this plant becomes as common as other introduced weed pests such as Japanese bamboo or purple loosestrife."
Once established, giant hogweed is difficult to control without chemicals, according to Mitchell. Cutting off flower heads will prevent this season's seeds from forming, but the root can send up new shoots every year and the roots can spread.