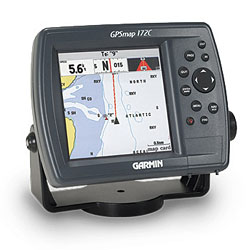 Garmin today announced the debut of its next-generation chartplotter, the GPSMAP 172C, and its combination chartplotter sounder, the GPSMAP 178C Sounder.
"Garmin has long been a leader in large-screen color GPS chartplotting products. The GPSMAP 172C and 178C demonstrate Garmin's commitment to offering the same brilliant color, robust features, and user-friendly interface -- in a compact, value-priced product," said Gary Kelley, Garmin's director of marketing. "Combined with our MapSource BlueChart or Recreational Lakes with Fishing Hot Spots cartography, these new units are destined to be a must-have for navigation on virtually any boat."
Both units feature a 4.5-inch diagonal screen and a vivid 256-color, 320 x 320-pixel CSTN screen for easy-to-read marine cartography and quick identification of fish -- even in bright sunlight. The unit comes with a CCFL backlight that incorporates Garmin's patented dimming system for comfortable viewing at any time.
The Garmin GPS Chartplotter offers a number of improvements over earlier generation units, including a state-of-the-art processor that makes map drawing, panning, and zooming virtually instantaneous. Additionally, user waypoints are automatically tagged with the date and time of creation, as well as water temperature and depth on the 178C -- vital information for serious anglers.
Detailed maps are stored on front-loading, removable Garmin data cards. Each model stores up to 3,000 user waypoints, 50 reversible routes, and 10,000 active track points. Boaters can also color-code their tracklines for trolling or cruising applications. Waypoints, routes, and tracks can also be stored on data cards and transferred to a PC or another unit.
All units come standard with a built-in worldwide marine basemap and accept pre-programmed or user programmed MapSource BlueChart offshore marine cartography -- featuring detailed depth contours, inter-tidal zones, wrecks, navaids, and many other points of interest. For small water anglers, the Garmin GPS Chartplotter is compatible with pre-programmed or user programmed MapSource Recreational Lakes with Fishing Hot Spots -- featuring fishing areas, boat ramps, marinas, and hazards for thousands of popular U.S. and Canadian lakes.
For added flexibility, mariners can upgrade the GPSMAP 172C to a full- fledged combination chartplotter/sounder at any time -- with the addition of a Garmin GSD 20 "black box" sonar and an additional transducer.
While the GPSMAP 172C is a standalone chartplotter, the GPSMAP 178C Sounder is a fully integrated chartplotter and sonar. In addition to all the features of the GPSMAP 172C, it features either a dual-frequency 50/200 kHz transducer for offshore boating or a single-frequency 200 kHz transducer for inland lakes and bays. Boaters can choose dedicated full-screen map, sonar, compass, and navigational screens -- or customize a split-screen page showing a combination of readouts.
The GPSMAP 178C utilizes Garmin's See-Thru technology -- which separates fish from thermoclines and structure -- and Depth Control Gain (DCG), for clear and accurate readouts at different depths and speeds. The 178C also logs and graphs water temperature data over time.
The GPSMAP 178C also lets anglers see more of their sonar information through a new digital display technology. The resulting image is an easy-to- read yet semi-transparent digital readout -- which allows users to see sonar images behind the data.
The GPSMAP 172C and 178C are expected to be available in March 2004.