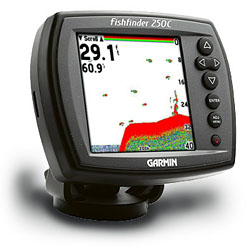 Garmin today announced the Fish finder 250C, a powerful sonar with a brilliant high-resolution color display and abundant features that serious anglers demand, yet priced in a range that even casual fishermen can afford.
"Garmin is known for delivering high quality, easy-to-use sonar," said Gary Kelley, Garmin's director of marketing. "The Fish finder 250C continues that tradition with proven Garmin dependability, a wide array of features, and a dazzling color display -- all at an affordable price that will appeal to a wide range of anglers."
The Fish finder 250C boasts a 4.5-inch diagonal screen with a 320 x 320-pixel count, 16-color display that's easy to read -- even in direct sunlight. The unit incorporates a patented CCFL backlight dimming system for comfortable viewing at any time. Pro anglers expect bright color displays to continue an increase in popularity among fishermen of all skill levels.
"The migration to color fish finders is one that will help fresh and salt water anglers catch more fish, because the vivid displays quickly identify key targets and structure," explained professional fishing legend Hank Parker. "With the Fish finder 250C, Garmin has delivered a color sonar product of the highest quality at a surprisingly affordable price."
In addition to the color version, Garmin is also offering a monochrome version -- named the Fish finder 250 -- which features a 10-level grayscale 320 x 320-pixel count display. Both color and monochrome versions are available with either a dual-frequency 50/200 kHz transducer for deep-water applications, or a single-frequency 200 kHz transducer for inland lakes and bays.
All configurations feature Garmin's See-Thru technology -- which separates fish from thermoclines and structure -- and Depth Control Gain (DCG), for clear and accurate readouts at different depths and speeds. Additionally, anglers can connect a Garmin GPS receiver (sold separately) to the unit to show navigational data and mark waypoints directly from the Fish finder's keypad.
The Fish finder 250 and 250C's slim profile also makes them ideal for mounting in-dash or on the bow. The unique quick-release, one-knob tilt swivel-mount allows for easy viewing at any angle.
The Fish finder 250/250C is expected to be available in March 2004, and will ship standard with a transom-mount transducer, power cable, swivel mounting bracket, unit cover, and owner's manual. A separate speed sensor is also included with the 250C model.