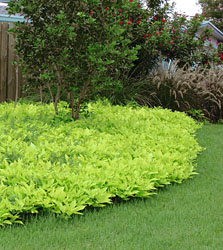 Llenza prefers ground covers to grass to solve a multitude of garden problems. Ground covers inject color, texture and shape into your landscape. They also define boundaries, highlight flowerbeds, discourage foot traffic, conceal unsightly tree roots and reduce maintenance. This photo demonstrates a sweet potato vine, Ipomoea batatas 'Margarita'. It's bright, and it's a great way to cover a large span of land quickly.
Landscape designer Luis Llenza designed and installed the landscaping for a newly constructed estate in Puerto Rico that will be featured in the December issue of Architectural Digest magazine.
"It's wonderful news, but national publicity is a little scary," said Llenza when news arrived about the Architectural Digest story. "I like to concentrate on uniquely creative designs, like this project, instead of high volume work," he said. The featured project demonstrates the broad range of Llenza's style, from the uniquely contemporary, yet formal, monochromatic front gardens to the more casual rear grounds, which feature a multi-colored palette of tropicals, highlighted by a cutting garden.
A native of Puerto Rico, Llenza has long been recognized as one of the island's premier experts in residential and commercial landscape design. He was chosen to design Aula Verde, an enclosed butterfly garden created as an educational environment for the children of San Juan.
In 2001, Llenza decided to relocate to South Florida, bringing his 20-plus years of experience to new territory. "I was drawn to the tremendous diversity of plants here, the opportunities for new projects and the challenge of building a business in fast-growing South Florida," he said. In the short time since, Llenza has been winning new clients with the freshness and unique creativity of his work.
"We expand living spaces by transforming traditional yards into garden rooms that offer privacy and shade, perhaps an orchid-filled arbor for dining al fresco, or custom plantings to define play or pool areas," he said. Llenza's repertoire includes original water features, decorative rock gardens, Xeriscaping with native plants and highly specialized use of fragrant tropical and sub-tropical plants.
Llenza's custom designs can be seen in residential and commercial projects throughout southeast Florida and also in Fort Myers Beach and Naples on the west side of the state. He has donated his talents for entranceway landscape designs to local neighborhoods, including Coral Ridge Country Club Estates, The Corals of Oakland Park, West Homeowners Association of Wilton Manors and Imperial Point.
Several of Llenza's custom garden designs have been published, most recently in Home Fort Lauderdale magazine. He contributes a monthly garden article to Stephen M. Kelley Publications of Fort Lauderdale for distribution in newsletters for local homeowner associations.