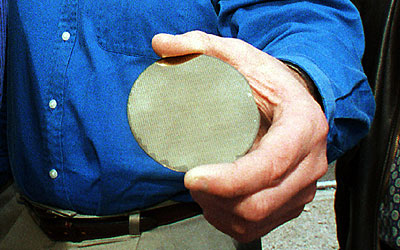 Nitronex Corporation, a privately held manufacturer of gallium nitride (GaN) based radio frequency (RF) power transistors, today announced the issuance of a U.S. patent. Additionally, Nitronex in collaboration with aviation electronics and communications leader Rockwell Collins announce the demonstration of a single unit GaN transistor yielding record-breaking output power of 120 Watts.
The latest Nitronex patent was issued on September 9, 2003 and is entitled "Gallium Nitride Material and Methods." The patent teaches process technology used for growing GaN semiconductor layers on silicon substrates and includes Nitronex's SIGANTIC core platform technology.
Kevin Linthicum, Nitronex's CTO stated that this "strengthens our intellectual property space and differentiates Nitronex from others commercializing gallium nitride semiconductors. This is a valuable addition to Nitronex's portfolio and is of strategic importance as it captures very broad protection for depositing device-quality gallium nitride on industry standard silicon wafers."
Nitronex used the SIGANTIC platform and fabricated the 120W device employing their baseline process developed for 3G-WCDMA market applications. Rockwell Collins packaged and tested the device at their Cedar Rapids facility. Nitronex's GaN High Electron Mobility Transistor (HEMT) technology is being evaluated by Rockwell for a variety of pulsed power applications. The results reported today were from a 39-mm gate width device pulse tested (pulse width of 11.4 microseconds at 5% duty cycle) at 2 GHz and 28 Volts. At 2.0 dB into compression the device exhibited a gain of 11.3 dB with an efficiency of over 39%.
The current results of the combined effort between Nitronex and Rockwell Collins validates that GaN has great potential to play a major role in future RF power amplifier systems. Don Landt of Rockwell Collins Advanced Technology Center stated, "We have many applications at Rockwell Collins for these devices especially in our government systems programs, such as Data Link 16 programs, weapons data links, Joint Tactical Radio Systems (JTRS), and flight navigation. High-performance cost effective GaN RF devices are essential for these systems."
Linthicum added, "We believe this demonstration by Rockwell Collins further validates the quality of our technology and confirms that it is well suited for a wide range of RF applications in addition to the wireless base station (BTS) market. Our SIGANTIC platform presents the same value proposition for these RF markets as it does for the BTS market: Higher power, broader bandwidth and lower cost. This level of performance and positive feedback from Rockwell echoes similar responses we have received from customers evaluating our technology for use in wideband 3G commercial applications where linear power and efficiency are of utmost importance."
The Office of Naval Research under a Phase II STTR contract funded, in part, Nitronex's development effort of the GaN HEMTs used by Rockwell Collins.