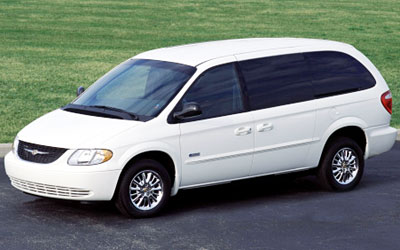 DaimlerChrysler will have on-road real-world experience with more than 100 fuel cell vehicles by the end of 2004 as the company expands its industry-leading development program.
The vehicles will include passenger cars, vans and transit buses to be placed with customers in Europe, Asia and the United States.
"We have demonstrated technical feasibility with our concept vehicles, and we consider fuel cell technology to be the solution for the future," said Dr. Andreas Truckenbrodt, head of fuel cell and advanced powertrain development for DaimlerChrysler.
"The next step is what we call, 'Fit for Daily Use.' We need to get field experience on the road in daily use to determine how our customers use the vehicles and what their needs are," Dr. Truckenbrodt said.
Dr. Truckenbrodt discussed DaimlerChrysler's fuel cell programs at the international electric vehicle symposium and exposition, EVS-20, in Long Beach, California, November 16.
The first commercially available fuel cell vehicles will be offered around the beginning of the next decade, but will not be produced in large numbers, Dr. Truckenbrodt said.
The first generation of vehicles will be fueled with compressed hydrogen, Dr. Truckenbrodt said. Reformers to extract hydrogen from other fuels, such as gasoline or methanol, add complexity and reduce the efficiency of fuel cell systems, he said.
"There is a lot of work to be done on the fuels and infrastructure issues. It is an area where we need a lot of cooperation," he said. But Truckenbrodt said there do not appear to be any major barriers to the successful development of fuel cell powered automobiles.
"We see quite a few areas where significant work is required, but the discussion is no longer if but rather when we will have these vehicles," Dr. Truckenbrodt said.
DaimlerChrysler Fuel Cell Vehicles on the Road
F-Cell - Based on the Mercedes-Benz A-Class, 60 F-Cells will be operated by customers in Europe, the USA, Japan and Singapore. The entire fuel cell system is housed in the sandwich floor of the long-wheelbase A- Class, leaving full use of the passenger and cargo spaces.
Citaro city bus - These 70-passenger buses will operate in daily bus service in 10 European cities, from the cold of the Nordic winter (Stockholm and Reykyavik) to the heat of the Spanish summer (Madrid and Barcelona), and in the hilly regions of Stuttgart. The 40-foot (12 m) buses have an operating range of about 125 miles (200 km). Pressurized cylinders containing compressed hydrogen are located on the roof of the bus.
Sprinter van - A fuel cell Sprinter van has logged more than 15,000 miles in daily service with Hermes Versand package delivery service in Hamburg since 2001. The van is fueled by gaseous hydrogen and has a range of about 95 miles (150 km). There is no loss of cargo space. Fuel cell Sprinters will be provided to selected U.S. customers in 2004.
DaimlerChrysler Fuel Cell Concept Vehicles
1994: NECAR 1 - The first fuel cell vehicle (New Electric Car) demonstrated that fuel cell technology is suitable for automotive application. The entire cargo space of the Mercedes-Benz van was taken up by the fuel cell system weighing 1,764 pounds (800 kg), leaving only room for the driver and one passenger.
1996: NECAR 2 - The Mercedes-Benz V-Class is a fully utilizable van with six seats, an operating range of 155 miles (250 km) and a top speed of 68 mph (110 km/h). The entire fuel cell apparatus, with a power output of 50 kW, is stowed under the rear seat and two hydrogen tanks are located on the roof.
1997: NEBUS - Operating on single hydrogen tank filling, NEBUS has a range of 155 miles (250 km), suitable for normal daily bus service. Several additional fuel cell concept buses have been developed.
1997: NECAR 3 - This vehicle demonstrated for the first time that the hydrogen can be generated on board from a liquid fuel, methanol.
1999: NECAR 4 - The entire fuel cell drive unit is housed in the sandwich floor of an A-Class car, leaving space for five occupants and their luggage. This vehicle runs on liquid hydrogen, with a top speed of 90 mph (145 km/h) and a range of 280 miles (450 km). NECAR 4a runs on compressed hydrogen.
2000: NECAR 5 - This vehicle based on the Mercedes-Benz A-Class, runs on methanol. In 2002, NECAR 5 became the first fuel cell vehicle to complete a trans-continental trip, from San Francisco to Washington, D.C.
1999, 2000: Jeep Commander and Jeep Commander 2 - These vehicles demonstrated the application of fuel cell technology to the SUV market. Commander was designed to run on gasoline, and Commander 2 operated on methanol.
2001: Natrium - Based on the Chrysler Town & Country minivan, this vehicle was fueled by sodium borohydride (NaBH4), a compound made from borax. Natrium has an operating range of 300 miles (500 km) and a top speed of 80 mph (129 km/h).