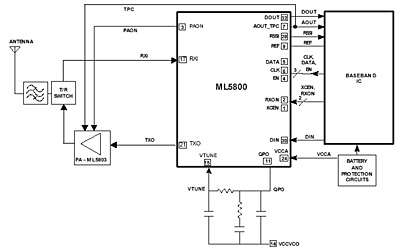 Micro Linear today announced the selection of Jazz Semiconductor as its foundry for its ML5800, the world's first 5.8GHz single-chip FSK transceiver. The ML5800 utilizes Jazz's specialty silicon germanium (SiGe) BiCMOS technology to improve transmission clarity for cordless phones and other wireless devices.
The ML5800 operates in the 5.8GHz ISM band, which provides clear and dependable communications even when used in close proximity to wireless local area networks (WLAN), Bluetooth, and microwave ovens. The ML5800 provides an efficient and effective alternative to the overcrowded 2.4GHz band. The transceiver's high data rate (1.5Mbps) allows for short data transfer times, low latency and direct sequence spreading, resulting in reduced interference problems and increased battery life. Similar to Micro Linear's 900MHz and 2.4GHz fully integrated transceivers, the ML5800 has automatic filter alignment, which is designed to eliminate manual tuning.
"We have an aggressive schedule for the ML5800 and in searching for a foundry partner, we required proven technology, superior processes and an experienced team," said Brent Dix, VP of engineering at Micro Linear. "Jazz is a world class foundry specializing in RF IC manufacturing. Their industry expertise, responsiveness and customer services have exceeded our expectations."
"Jazz's low noise SiGe transistors allowed us to integrate a 5.8GHz LNA and low phase-noise VCO on the ML5800 to achieve superior receive sensitivity with lower power consumption. The SiGe60 process' high-Q inductors and high-density capacitors permitted compact layouts, which led to small die size and lower cost. Overall development time was greatly reduced since Jazz's device models accurately predicted high frequency circuit performance," added Dix.
"We are pleased to have been selected as Micro Linear's foundry partner," said Theodore Zhu, vice president of sales, strategy and business development for Jazz Semiconductor. "We are committed to the first pass success of our customers and are proud to work with Micro Linear, a company that is introducing innovative technology to the marketplace. We look forward to an ongoing, successful partnership with Micro Linear."
Initially positioned for the Digital Cordless Telephone market, the ML5800 is currently sampling to key accounts and is expected to be released to the general market in Q1 of 2004. With its high integration, low cost, and high data rate, Micro Linear believes the ML5800 transceiver is an efficient solution for consumer wireless streaming audio, video, and high data rate data applications.