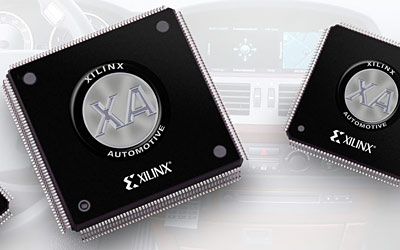 Xilinx today announced the next-generation of its Easy Path solution as the FPGA industry's lowest cost and only conversion-free replacement to ASICs for volume production. The expanded Easy Path product line now supports the Xilinx Spartan-3 and Virtex-4 Platform FPGAs, starting at just $12.95 for 30,000 logic cells and half the price of comparable Structured ASIC offerings. The new families of Spartan-3 and Virtex-4 Easy Path FPGAs deliver unprecedented price-performance value over Structured ASICs, with the most comprehensive selection of silicon and intellectual property (IP) platforms available.
Advances in the patented Easy Path test technology also provide the unique benefit of design flexibility with platform features and price points better than those available with Structured ASICs. This opens the gateway for more companies and applications to leverage all the advantages of FPGAs from prototype through production at the lowest possible cost. Xilinx has seen broad adoption of its Easy Path approach through multiple design engagements.
"As applications move into volume production, companies want an easy, no-risk path to cost reduction without the resource and time requirements of converting to ASICs. Our Easy Path solutions provide the lowest total cost and fastest no-conversion ramp to volume production, and now include the flexibility to make design changes, at prices below Structured ASICs," said Mustafa Veziroglu, general manager of the Market-Specific Products Division at Xilinx. "This radically changes how companies will use FPGAs, because they now have a proven, reliable solution for prototype through volume production, all from a single, trusted supplier that is committed to low cost leadership."
The Xilinx Easy Path solution leverages commonly used redundancy techniques standard in the semiconductor industry and patented test technology to lower FPGA costs by up to 80 percent. Easy Path FPGAs also derive cost benefits because they are based on the cost and performance-optimized architectures of the 90-nanometer Xilinx Spartan-3 and Virtex-4 FPGAs.
Companies can transition their Xilinx FPGAs to the lowest device cost for volume production in as little as eight weeks with no conversion required and identical functionality. The reliability and quality metrics for Easy Path devices are identical to their FPGA counterparts with test coverage superior to Structured ASICs. Unlike ASIC approaches, Easy Path FPGAs feature the industry's lowest non-recurring engineering (NRE) charges without any additional engineering or re-qualification costs, IP or tool investments required.
"Easy Path FPGAs can now compete successfully against Structured ASICs in the areas of low cost, high volume and performance," said Rich Wawrzyniak, senior analyst for ASICs and SoC at Semico Research Corporation. "The lower price points now achievable through the Xilinx Easy Path products broaden out the markets and applications that are directly addressable by FPGAs. This brings additional off-the-shelf alternatives to those designers contemplating a Structured ASIC solution. It also preserves the low cost-to-create and time-to-market goals they require to achieve success in their respective markets."
Spartan-3 and Virtex-4 Easy Path FPGAs, unlike any ASIC, offer designers the ability to implement in-system engineering change orders (ECOs) using fully re-programmable look-up tables (LUTs) and flexible IOs. Designers can make changes without re-spins, which greatly reduces engineering, bill of materials and inventory costs as compared to ASIC approaches. In addition, Easy Path FPGAs now support two design variations in a single device -- typically one to assist in the customer's system diagnostic test and one for the actual application -- further reducing costs and providing unmatched flexibility.
"COPAN Systems has leveraged Xilinx technology to radically change the value proposition for storage solutions by delivering disk-based performance at the price and scale of tape," said Eric Sumpter, COO at COPAN Systems. "The new Xilinx Easy Path offering and conversion-free design methodology allow us to continue to rapidly deliver new innovations to our customers through programmable logic. Now, with much lower prices and more flexibility, it also enables our developers to decide much later in the design cycle when to move from an FPGA to a low-cost device for volume production."
Xilinx nearly tripled the number of devices supported by the next generation Easy Path solution across its four feature-rich FPGA families and six silicon platforms, coupled with the industry's most popular design tools and broadest portfolio of hard and soft IP cores available today for FPGAs. The addition of the Spartan-3 and Virtex-4 Platform FPGAs to the Virtex-II and Virtex-II Pro Easy Path offerings already in full production brings the total to 28 devices that range in complexity from 20,000 to 200,000 logic cells.
The next-generation Easy Path solutions leverage the robust Xilinx development ecosystem which features hard IP support for multi-Gigabit serial transceivers, Power PC and Ethernet MAC cores; more than 600 proven soft IP cores; and the easy-to-use, low-cost Xilinx Integrated Software Environment (ISE) design suite.
The Easy Path conversion-free design methodology ensures first-time success with no feature disparities and no discrepancies in logic and timing as compared to the underlying FPGA device. There is also no need to re-design, re-qualify or re-verify prior to production signoff, thus eliminating all the risks and significant costs of re-qualifying an ASIC conversion.
"With the combined benefits of lower prices, unmatched flexibility and conversion-free methodology of the Easy Path solution, Structured ASICs are essentially relegated to an even smaller niche," continued Veziroglu. "Companies can now leverage all the advantages of Xilinx FPGAs along with the benefits of prices below Structured ASICs with the next generation Easy Path FPGAs."
Xilinx offers Easy Path FPGAs for its Virtex-II, Virtex-II Pro, Spartan-3 and Virtex-4 Platform FPGAs. Easy Path solutions range in price from 30 to 80 percent below their standard FPGA counterparts. For example, list price for a Spartan-3 Easy Path XCE3S1500 is $12.95 U.S. with $75,000 NRE and 50,000 unit minimum order quantities in second half calendar year 2005. The new design flexibility features are offered as options for Spartan-3 and Virtex-4 Easy Path FPGAs and include incremental NRE and unit costs.