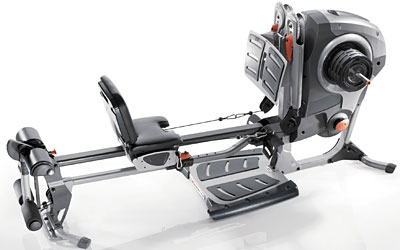 The Bowflex Revolution home exercise gym is the most versatile model ever made by the fitness innovation leader. The quiet, easy-to-use unit offers users hundreds of workout variations through a proprietary resistance technology first used to help astronauts maintain their muscle and bone mass. Now, that technology will help people on Earth work out at home through a space-efficient gym that allows users to change exercises effortlessly, while enjoying a new dimension of safety in home exercise.
"Through our commitment to a fast pace of innovation, we've turned a brilliant space-age resistance technology into an innovative home exercise gym that offers a nearly endless variety of exercise options for everyone who trains in a household," said Tim Hawkins of Nautilus.
"The Bowflex Revolution home gym has an unbelievably smooth and natural feel that will offer people a way to achieve a full workout for every part of their body in the convenience of their own home," said resistance-based training expert Tom Purvis. "This versatile unit is ideal for people who want the equivalent of an entire circuit of fitness strength equipment available to them at home."
The Bowflex Revolution home exercise gym uses patented SpiraFlex technology, which creates resistance within light-weight canisters that look like free weight plates.
"After testing it, I believe the Bowflex Revolution home gym will help millions of men, women and youth maintain muscle and bone mass over a lifetime," said sports medicine physician Jerry Linenger.
"After spending months in space, I am keenly aware of the importance and value of resistance training to maintain and improve the condition of muscle and bone. It has taken me years of training to recover the bone and muscle mass that I lost floating in space. This is the same kind of training that people on Earth need to keep their muscles and bones in condition to last for our increasingly long lives."
Bowflex Revolution gyms can accommodate hundreds of exercises as the user gains comfort and experience in their workout. Exercises include rowing, curls, preacher curls, chest press, leg curls, leg extensions, and leg press. The unit generates up to 300 pounds of resistance, and up to 600 pounds of leg press resistance. Its independent moving arms adjust to 10 different positions offering more user flexibility and comfort. The Bowflex Revolution is portable, folds and rolls for easy storage, and has a lower vertical profile so it can fit in rooms with low ceiling heights.
Bowflex creates innovative home fitness cardio and strength products.