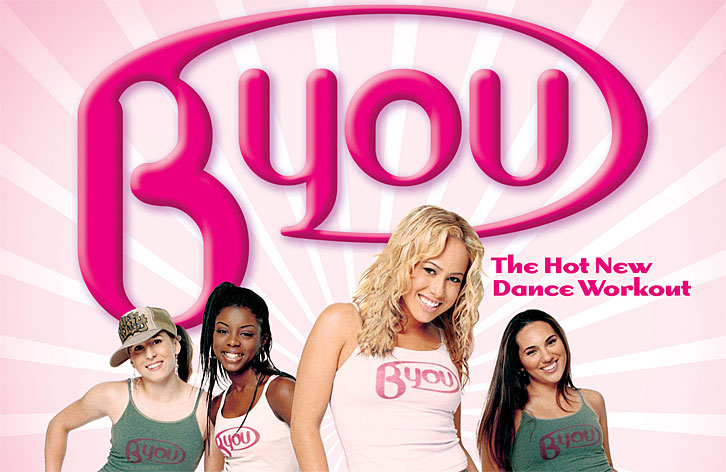 Dancer, singer and actress, Sabrina Bryan of The Disney Channel's hit movie and double platinum selling soundtrack The Cheetah Girls -- stars in a 95 minute dance fitness DVD called BYOU. The DVD was created so that girls can have fun learning the latest dance moves and get fit at the same time. It combines pop and hip hop dance movements with strength and cardio training in three routines moving from beginner to advanced. A companion BYOU CD has all nine songs that are on the DVD. BYOU is a fitness brand created solely for girls.
"It's important for everyone, no matter what age to learn how to move their body," said Bryan, who has been a professional dancer for more than ten years. "Keeping active is a vital component to staying fit and healthy and to feeling good about you."
BYOU is aimed at girls from eight to fourteen years old. Girls tend to lose their self confidence during these years, developing negative feelings about their looks and their bodies. Sabrina Bryan uses her talents as a performer to create an entertaining learning tool to raise self-esteem.
"I hear from many girls who feel pressure to look a certain way and who lack a strong self image to just be themselves," said Bryan, who is backed up on the routines by girls of different ethnic backgrounds with a variety of body shapes and sizes. "I'm very excited about BYOU. Being yourself is all about being comfortable in your own skin and nothing makes you feel more confident than dancing."
Bryan excels in all types of dance, including hip-hop, ballet, and tap. The talented performer is well-known for her role as Dorinda, of the Disney Channel's The Cheetah Girls, a movie about a group of four Manhattan high schoolers who pursue their dream.
The first BYOU routine is Pure Fun -- a long workout version with high intensity cardio that gives girls a sense of accomplishment quickly. Then comes Dance Party, a remix of moves learned in the earlier stage, so girls can just get down and dance. Full Blast is the advanced routine with fresh, funky new moves also incorporating moves learned in Pure Fun. Once you've mastered Pure Fun and Dance Party, Full Blast will challenge your newly learned skills. There is a bonus section in which moves are broken down step-by-step so everyone can go at their own pace.
DVD producer Debra Martin Chase and fitness author Linda Shelton designed the program to intertwine dance and fitness to meet guidelines appropriate for tweens in a way that is safe, effective, and fun.