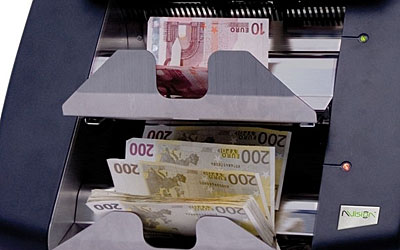 A new banknote counter and fitness sorter from De La Rue Cash Systems is designed to meet the new requirements of the Eurosystem and the European Central Bank (ECB) to be launched in May 2007.
The compact multi-currency machine with fitness sorting meets the ECB Recycling Framework's requirements. It performs simultaneous note detection and fitness sorting.
For high desktop productivity, the machine allows continuous and uninterrupted note processing.
Nvision has two full-stacking pockets with a remarkably smooth glide feed system. It is capable of multiple detection technologies thus providing outstanding productivity with a processing speed up to a thousand notes per minute.
Cash processing organizations are in search for affordable fitness solutions that ensure notes meet the pending requirement of the ECB banknote recycling mandate. With the product launch in May, De La Rue intends to address this demand.