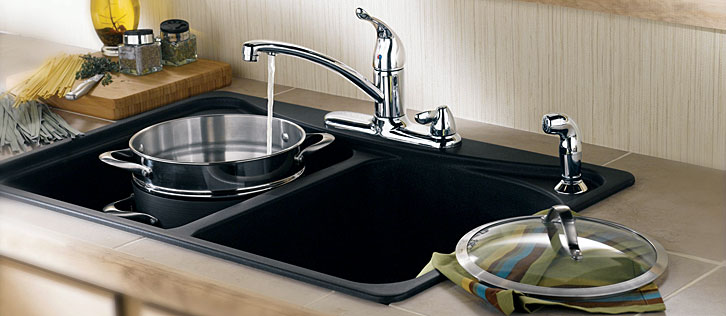 With Moen's integrated ChoiceFlo filtration system featuring, consumers can get both filtered and ordinary tap water from their kitchen faucets - no unsightly attachments required. Cutting-edge technology has been integrated into Moen's popular -- and affordable -- Chateau kitchen faucet, which, at first glance, looks and operates like a traditional faucet.
"Research into the problems consumers experience in and around their kitchen sink revealed that one of the areas of greatest opportunity was improving the quality of water from the kitchen faucet," said Jack Suvak of Moen.
"Because consumers are concerned about their water quality, we found the majority of those surveyed use some type of filtration device. And while many of the consumers owning a filtering device are satisfied, approximately one-third of homeowners said they would switch in the next five years." This presented an opportunity for Moen to develop an innovative filtration solution to fill the void for an effective, comprehensive filtering faucet.
The Chateau faucet with ChoiceFlo is one faucet spout providing two water supply options: filtered and non-filtered. During installation, a separate handle is easily mounted next to the faucet deck plate. When the consumer wishes to switch from tap to filtered water, he or she simply turns the filtration handle. A separate water line delivers the filtered water through a hidden spout on the faucet neck. The under-the-sink carbon filter is more thorough at eliminating contaminants than filters found in standard filtering pitchers, faucet-mounted filters, and refrigerators with built-in filters.
"This is truly a breakthrough in how consumers receive filtered water in their homes -- and at their kitchen sinks," said Tim McDonough of Moen. "We took our most popular kitchen faucet and integrated a separate channel for filtered water. It keeps the tap water and filtered water completely separate in one stylish faucet."
Moen has been developing the patented technology for the past several years, making sure the faucet is not only stylish but that it performs with the utmost of ease. Users can fill glasses or pitchers of water in no time, thanks to a generous flow rate of one gallon per minute. The activated carbon block filter reduces many impurities, including lead and chlorine, and is designed to last a lengthy six months. An integrated filter-life indicator signals when it needs to be replaced. The low-cost filter simply clicks into place under the sink; no tools or water shutoff are needed.
"Gone are the days of bulky faucet-mounted filtering systems or the hassles associated with water pitchers," said McDonough. "This system is extremely easy to install and is priced to become a part of consumers' daily lives."
He continued, "Consumers will go to great lengths to get filtered water. Now it is as simple as turning on their kitchen faucet."
In addition to faucets, Moen designs sink, tub, and shower packages.