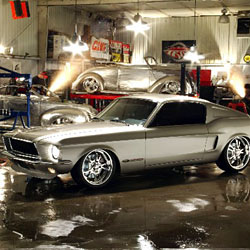 To demonstrate the depth and breadth of parts and accessories available on eBay Motors, eBay Motors commissioned legendary builder Troy Trepanier and his shop Rad Rides by Troy in Illinois to take the much-loved Ford Mustang Fastback and rebuild it into the Fastforward Fastback 67 Mustang project car. The restored vehicle, with styling cues and modifications borrowed from Ford's 05 concept Mustang, is packed with many parts and accessories actually found and bought on eBay Motors. The original car also came from eBay Motors.
Using major components donated by Ford Racing and other performance products manufacturers, the Fastforward Fastback project took eighteen weeks to create and will make its debut during the SEMA Show 2003 from Nov 4 - 7 in Las Vegas.
"Most people don't know that every three seconds another part or accessory sells on eBay Motors," said Paul Nadjarian, eBay Motors Senior Manager of Parts & Accessories. "By commissioning Troy and his shop to build the Fastforward Fastback project, it was our way to demonstrate how useful and valuable the eBay Motors marketplace can be for car enthusiasts."
Following its debut at SEMA, the Fastforward Fastback will be on display at a variety of car shows across the country over the next year. Once the tour is complete, the vehicle will ultimately be auctioned on eBay Motors, with the proceeds of the sale going to charity.
The Fastforward Fastback project car will be on display at the SEMA show in the Las Vegas Convention Center at the HotRod TV booth, in the Primedia booth space, in the main hall across from Ford Motor Company.