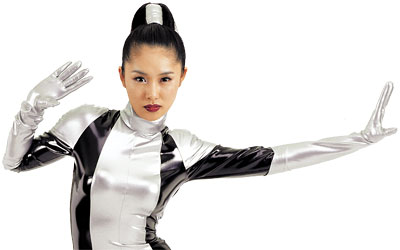 The Art Institute of Phoenix announced a new Bachelor of Arts degree in Fashion Marketing beginning with the winter quarter, January 12, 2004. The Fashion Marketing program provides graduates with the skills needed to work in the field of retail management, retail design, fashion event coordination, manufacturing, and distribution outlets within the fashion industry. The Fashion Marketing program prepares graduates for entry-level career opportunities in retail, marketing, and merchandising apparel and related products. The program emphasizes innovation and creativity with professional skills and technical knowledge necessary for successful entry into the apparel retail and marketing industry.
"We are very excited to offer a Fashion Marketing degree program at The Art Institute of Phoenix. We are confident that our new program will be extremely popular here in the Valley and will fulfill a demand within the fashion industry as a whole," commented Tim Harrington, Dean of Education. "We also believe that the fashion industry will benefit from the kind of educated professionals that will graduate from this program."
Focus areas for this new program include course work in fashion history and design, manufacturing, and sales, providing a foundation in the evolution of the apparel industry. Students explore consumer behavior and its role in driving fashion trends and purchasing patterns. Standard business practices including visual display design, catalogue design, marketing, and advertising as well as business development and management are additional focal points. The Art Institute of Phoenix's new Bachelor of Arts degree in Fashion Marketing also includes general education classes. The degree program lasts three academic years (36 months) and contains 186 quarter-credits, including 54-quarter credits in general education.
The Fashion Marketing program addresses the retail, marketing, manufacturing and distribution needs of fashion merchandizing. The program allows students to study trends and consumer behavior while developing necessary skills in marketing, managing, and organizing a fashion retail facility. Students will also be introduced to consumer buying, employment law, product management, and global trends. The program enables students to communicate with consumers, retail manufacturers, and distribution entities as well as manage product flow, forecast sales, and fashion trends. Students will participate in the organization and staging of a fashion related show as part of their capstone experience in this program.
Visit The Art Institute of Phoenix to learn more about the Bachelor of Arts Degree in Fashion Marketing.