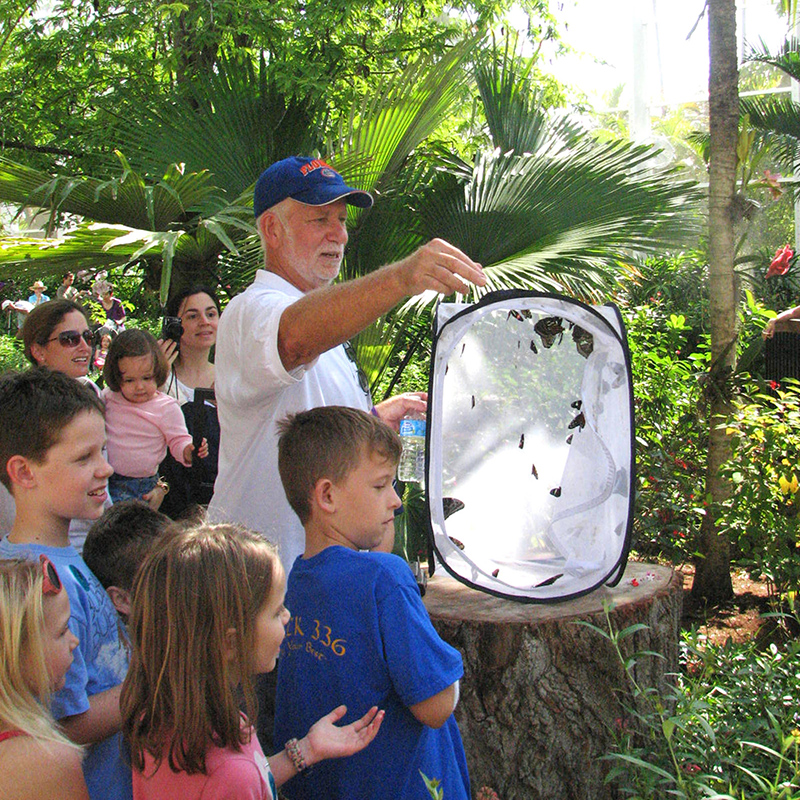 By September 29, 2017, ten days following Hurricane Irma's destruction, Fairchild Tropical Botanic Garden had reopened and is fully operational including exhibits, ongoing activities and educational programming.
"Even after a natural disaster like this, Fairchild's beauty is unwavering. Its vistas, rare plant and fruit collections and acres of gardens are a delight, inspiration and healing source for all," said Carl Lewis, PhD, Fairchild's Director. "Our quick opening would not have been possible without the support of our dedicated employees and close to 1,000 adult and high school volunteers, some of whom left their own damaged homes, to clear debris at the Fairchild during its time of need."
According to Lewis, tree damage was significant due to the length of time the winds were blowing during the storm, not the strength. A Hurricane Relief Fund has been established to help Fairchild rebuild and restore the Garden. Every dollar will be used to raise felled trees and restore damaged collections and grounds. With over 100 acres of beautiful gardens and farmland, Fairchild is home to the most important palm and cycad collection, rare plants, tropical fruit trees, the largest mango collection in the world and some of the most endangered tropical plants in the world.
Having learned from Hurricane Andrew, Fairchild's detailed hurricane response and preparedness plan included readying the facilities and plant nurseries beforehand, pruning trees and fragile branches in advance, having generators on property and bringing in heavy equipment immediately after the storm to clear debris and evacuating valuable exhibits.
Fairchild volunteers worked tirelessly to evacuate butterflies from the popular Wings of the Tropics butterfly exhibit. Approximately 1,000 butterflies in the exhibit were meticulously collected by volunteers by hand and using nets, and brought to a secure laboratory with enough food to weather the storm. The Wings of the Tropics exhibit in The Clinton Family Conservatory is filled with hundreds of spectacular butterflies year-round. Exotic, artful butterflies like the heliconids, morphos and owl butterflies from Central America and South America perform their aerial displays of wonder. These butterflies represent about 40 different species at a time, creating a living rainbow. Adults, children and families marvel with pure delight at the Wings of the Tropics, truly a one-of-a-kind experience, enhanced further by a stunning display of tropical plants and orchids.
Fairchild's award-winning Fairchild Challenge multi-disciplinary educational program is now entering its 16th year anniversary having grown to 300 public and private schools and 200,000 K-12 students. The Fairchild Challenge includes a cross-curriculum science initiative and comprehensive environmental training pipeline, including the nationwide STEM directive - Science, Technology, Engineering, and Mathematics. In its partnership with National Aeronautics and Space Administration (NASA), scientists and educators at Fairchild and NASA are administering plant experiments for participating middle and high school students to determine which edible plants might be suitable for growth in microgravity aboard the International Space Station's plant growth facility, Veggie. Extending from early childhood through advanced graduate education, Fairchild Challenge's goals are aimed at recruiting future science leaders and training a new generation of professionals in environmental science.
Fairchild continues to propagate millions of native orchids in its Micropropagation Lab in the Science Village through an initiative known as the Million Orchid Project, the first project of this kind in the United States. To date, Fairchild has reintroduced thousands of several orchid species into the urban landscapes of Miami and its surrounding neighborhoods with the purpose of restoring both native orchids and the insects that pollinate them.