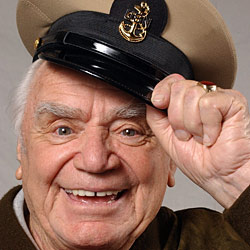 Academy Award winning actor Ernest Borgnine obtained a lifelong dream of advancement to chief petty officer.
The actor who played Lieutenant Commander McHale in the 1960s television show, McHale's Navy, not only played a sailor on TV, he served in the U.S. Navy for 10 years.
Borgnine enlisted in the Navy in 1935 serving on destroyers and submarine chasers. He served his commitment until 1941, but after just three months of being a civilian again, Pearl Harbor was hit by the Japanese and Borgnine returned to active duty. Borgnine went to sea with the Navy -- helping to guard the U.S. Atlantic Coastline during the height of World War II. He rose to the rank of gunner's mate 1st Class. He left the Navy after the war in 1945, but he says he never forgot what he learned.
"Of all of my successes in life, including all that I've earned in acting, being in the Navy is my greatest achievement," Borgnine told an audience at the U.S. Navy Memorial in Washington, DC on Sunday.
"The camaraderie and the work ethic is something that I always remembered . . . and it's what got me through things the rest of my life."
Borgnine was presented with a chief's pin, hat and given the title, "honorary chief petty officer" from the highest ranking enlisted man in the U.S. Navy -- Master Chief Petty Officer of the Navy Terry D. Scott.
Scott does not give out such honorary titles very often, but he said because of Borgnine's Navy service, and his support of the Navy and its families, Borgnine deserves this special advancement.