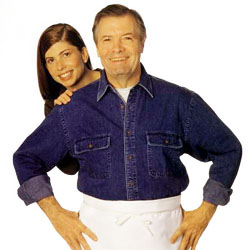 Jacques Pepin's Kitchen: Encore With Claudine - Pleasure and practicality are combined in Jacques Pepin's Kitchen: Encore with Claudine, from world-renowned chef and cooking teacher Jacques Pepin. This book, along with its prequel, Jacques Pepin's Kitchen: Cooking with Claudine, is a companion to the PBS series of the same name, but they each stand on their own. Both emphasize the pleasure of cooking with and for family and friends. For this second course in daughter Claudine's culinary education, consummate teacher Pepin introduces her (and the reader) to more techniques--from basics, like how to clean salad greens or trim an artichoke, to how to bone and stuff a quail. The 110 original recipes take shape in 26 menus, each with its own chapter, complete with 4 or 5 well-laid-out recipes, some of which are accompanied by full-color photographs. The menus have different themes, with titles such as "Fall Colors Feast," "The Fish Connection," "A Graduation Party," or "The Adventurous Cook."
Although the dishes often highlight Pepin's French training, they have a contemporary American feel, with their minimal ingredient list, streamlined directions, accessible ingredients, and attention to attractiveness without the fuss. Most, like Chicken with Saffron Rice, take a single page, but a few, such as the Filet of Sole in Artichoke Bottoms, will attract the more accomplished cook. For health-conscious readers, each recipe (many of which are quite light) comes with a nutritional analysis. The recipes are thorough and clearly written, all infused with Pepin's warmth and enthusiasm. They will attract any cook interested in cooking quality meals at home. --Amy Cotler
From Booklist October 15, 1998: Pepin's cuisine continues to evolve with America's changing tastes. His first cookbooks explained classic French techniques in pictorial detail to cooks determined to learn the ways of French master chefs. Then Pepin turned to California cuisine, with its emphasis on calorie control. After that, he demonstrated how one could prepare perfectly acceptable family meals in less than 30 minutes. Now he has turned his instructional attention to young cooks, personified by his daughter and kitchen companion Claudine. This book, based on his television shows, demonstrates that even college students can prepare attractive meals with an eye to both flavor and nutritional substance. By organizing recipes into menus, he overcomes beginning cooks' reluctance to entertain their friends. And the nutritionally conscious will appreciate each recipe's calorie and fat analyses. Tie-in with Pepin's newest PBS television series will create demand for this volume. Mark Knoblauch
Synopsis: In this companion volume to a new season of the popular PBS series "Jacques Pepin's Kitchen", Jacques teaches his daughter Claudine how to make delicious meals for all occasions in a way that is creative and resourceful. Includes 100+ recipes. 104 color photos.