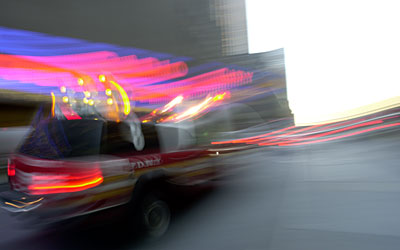 Members of the OASIS standards consortium have announced plans to collaborate on the development of XML-based standards for emergency management and incident preparedness and response. The new OASIS Emergency Management Technical Committee will define standards to enable vital information exchange between local, state and federal agencies including law enforcement, medical professionals, companies, and other responders to natural and man-made disasters and emergency situations.
"The OASIS Emergency Management Technical Committee is an important step in creating interoperability for the Responder Community. As an integral part of the Disaster Management e-Gov Initiative, it is a true partnership between industry and government. Most important, the effort is being led by the emergency management industry," said Mark G. Zimmerman, Program Manager, Disaster Management E-Gov Initiative, Office of the CIO, U.S. Federal Emergency Management Agency (FEMA). "The output of this OASIS committee will be a critical component for the Federal Enterprise Architecture as well as the Disaster Management e-Gov Initiative. Developing these XML standards is in keeping with the spirit and intent of the President's Management Agenda e-Gov effort of using information tools to serve the citizen. It could not come at a more critical time in our Nation's history."
The scope of the OASIS activity will include unified incident identification, emergency GIS data accessibility and usage, notification methods and messages, situational reporting, source tasking, asset and resources management, monitoring and data acquisition systems, and organizational coordination.
"Studies conducted under the Homeland Security Act agree that the need for standards in this area is acute. Currently, emergency management is being handled by disparate systems using proprietary architectures and platforms that pose enormous technical challenges to coordinating activities and sharing information," explained R. Allen Wyke of Blue292, chair of the OASIS Emergency Management Technical Committee. "The efforts at OASIS will allow greater interoperability and open communication that ultimately will reduce both human and financial losses."
The OASIS effort is supported by the EM-XML Consortium, a group comprised of both industry and government to facilitate collaboration among all parties responsible for preparing, responding, and recovering from incidents and emergencies of any kind.
"There is a unanimity of positive response across industry and government for the development of emergency management standards to address the critical interoperability problems at the heart of homeland security," said Matt Walton of E Team, chair of the EM-XML Consortium Steering Committee. "This strong support not only validates the need for creating standards, but also shows that XML is the right technology and OASIS the appropriate place to solve these fundamental interoperability issues."
Blue292, Boeing, E Team, IBM, MTG Management Consultants, National Center for Crisis and Continuity Coordination (NC4), Oracle, Wells Fargo, and other OASIS members will participate in the OASIS Emergency Management Technical Committee.
"Any company that is developing software or hardware solutions for risks, incidents, emergencies, or disasters should be represented in this work," noted Scott McGrath, director of membership for OASIS. "The standards developed by this committee will benefit both public agencies and private organizations responsible for meeting safety and security requirements for their communities, as well as the companies that provide products and solutions to support these needs."
Participation in the OASIS Emergency Management Technical Committee remains open to all organizations and individuals. OASIS will host an open mail list for public comment, and completed work will be freely available to the public without licensing or other fees.
Industry Support for the OASIS Emergency Management Technical Committee
"Blue292 has always believed in open architectures and products, with the founding principle that value is not inherently in the technology, but in how that technology can be applied. By supporting the OASIS Emergency Management Technical Committee, we have taken a step in removing the barriers that currently exist at emergency operation and disaster recovery centers, so that we can focus on providing features, tools, and products to help save lives," said Susan K. Acker, president, CEO and co-founder of Blue292.
"When an emergency occurs, not only do the responding organizations need interoperable voice communications, they need to share data as well. This allows them to develop the common situational awareness that is the critical success factor during emergency response activities," said Kevin Minds, director, Boeing Mobile Broadband Solutions. "By the end of this year, the OASIS Emergency Management Technical Committee will have developed an industry standard that allows different emergency response groups to share information across their various decision support software platforms."
"The forming of the OASIS Emergency Management Technical Committee is a significant step toward the creation of a comprehensive set of standards that will accelerate emergency response time among public safety organizations," said Steve Davis, CEO of MTG Management Consultants, L.L.C. "MTG is proud to lend its experience and expertise in providing highly specialized IT planning and business process review services to state and local public safety organizations. We look forward to supporting this valuable effort to advance incident preparedness."
"The challenges of homeland security require an unprecedented level of communication and coordination, not only between government agencies at all levels, but equally important, between government and business. The absence of interoperable emergency management information systems severely hinders our nation's ability to protect our critical infrastructure," said Jim Montagnino, Vice President and General Manager of NC4 (The National Center for Crisis and Continuity Coordination). "The efforts of the OASIS Emergency Management Technical Committee are vital to advancing NC4's goal of enabling effective coordination between the public and private sector before, during, and after crises."
"As XML has emerged as the premier method for data exchange, many large commercial organizations have sought to leverage the technology for their own unique information requirements," said David Robinson of Wells Fargo. "Data exchange is especially relevant for those involved in emergency and incident management systems because data will originate from a variety of systems that do not inherently communicate with one another. The OASIS Emergency Management Technical Committee will define and develop an emergency/incident specific XML standard to enable data exchange between public and private institutions on diverse platforms and applications."