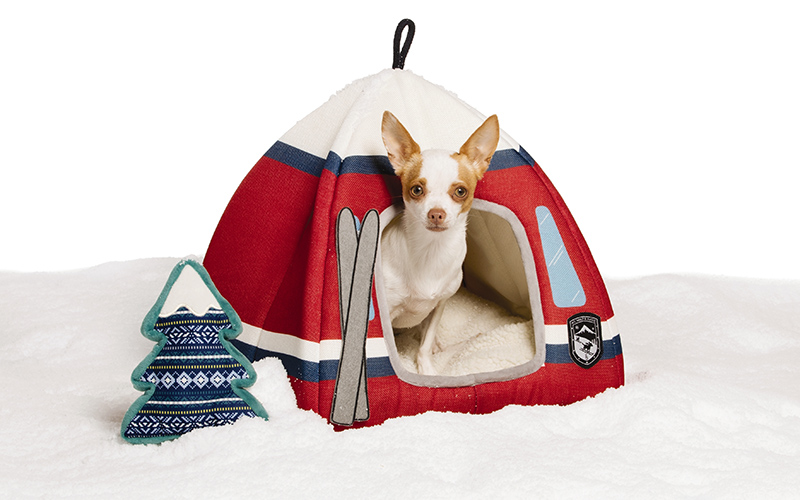 On November 8, 2017, PetSmart and Ellen DeGeneres announced the launch of the ED Ellen DeGeneres Winter Pet Collection with a fun ski theme including chic scarves, sweaters and outerwear, as well as festive toys to keep pets warm and active through the coming winter months.
The ski-themed items include a ski lodge hut pet bed, and plush toys featuring ski goggles, St. Bernard dog, skiing bear and apparel such as the Augie ski dog hoodie featuring a dog on a pair of skis. Classic items like the red buffalo plaid scarf dog collar, festive red crew-neck sweater and shearling-lined quilted barn coat all include the scripted Love and Joy design elements, an iconic feature in many of the ED Ellen DeGeneres apparel designs. MacGregor Red and Black, also known as Rob Roy MacGregor, is the buffalo plaid of the US, associated with lumberjack Paul Bunyan. According to tartan scholar Donald C. Stewart, buffalo plaid is probably the oldest MacGregor tartan.
A focal item in the collection, a winter accessory set, with its coordinating leg warmers, a neck-warmer style scarf and pom-pom hat done in brown knit with pops of red. Winter toys include lots of animals like bears and wolves with classic fair aisle knit detailing, a knit hat flattie dog toy and a pair of knit mittens connected with a rope – all with squeakers to engage play. A treat jar, one of the most popular items in the ED Ellen DeGeneres pet line, has the intriguing slogan: "May Cause Good Behavior."
"My new Winter Collection for PetSmart has something to keep all of your pets warm, stylish and active this season," said Ellen DeGeneres. "It may not stop your pets from running through the house tracking mud and snow, but my goodness, will they look great doing it."
Launching February 2018 exclusively at PetSmart, the ED Ellen DeGeneres Winter Pet Collection includes hundreds of evergreen products, a Cat Collection and seasonally refreshed assortments four times a year. ED is Ellen DeGeneres' American lifestyle brand inspired by her iconic style, values and personality.