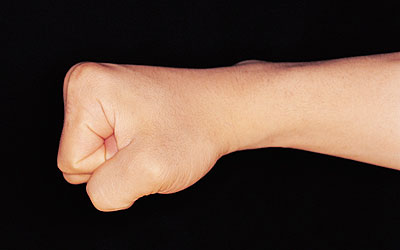 An electronic bracelet from AXCESS automatically identifies, tracks, and protects people. The bracelet was developed to satisfy existing orders, and will provide solutions for controlling prison populations, protecting newborn infants in hospital nurseries, alarming for wandering patients, among other applications. The bracelets are available for sale immediately and for general shipment in August.
The system is based on AXCESS' ActiveTag RFID system platform, which provides personnel and vehicle access control and tracking, and asset management applications to the security and logistics industries. Its uniqueness comes from the ability to "wake-up" the bracelet when it approaches a door or other security control point to automatically transmit wirelessly an ID and a request for the authority to open the door. The system is also characterized by a simple infrastructure of palm-sized receivers used to process the wireless signals. The receivers interface to standard security access control panels to make the system easy to implement.
ActiveTag is a high-performance, low-cost, active RFID solution for tracking assets, people and for hands-free access control for personnel and vehicles. It offers a flexible, scalable deployment of specialty tags and components that can address a variety of enterprise-wide needs within the same networked RFID infrastructure. Small activation antennas create a localized 3D wake-up field, typically at doors, entrances to corridors or any other designated portal. Tags or bracelets can also be programmed to beacon at set intervals to enable real-time location and tracking. The anti-tamper feature alerts the system to any attempt to remove the tag. And, tags are linked in software to facility tags in hallways and doorways to catch any person moving without a bracelet. Tags of different varieties can be directly linked, for example to provide a custodial relationship between personnel, between personnel and assets, and between personnel and vehicles.
AXCESS provides intelligent electronic security surveillance systems that locate, identify, track, monitor, count, and protect people, assets, and vehicles.