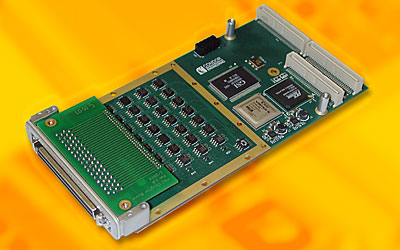 The P-10SF is a new single-function PMC module for 10Mbit MIL-STD-1553B performance from GE Fanuc Embedded Systems. The advanced solution offers a less expensive architecture than regular 1Mbit 1553, while providing up to ten times the data throughput.
The P-10SF PMC offers one or two channels of dual-redundant, 10Mbit, MIL-STD-1553B Notice 2 protocol using RS-485 transceivers. This interface is an excellent choice for flight controls, actuators, electro-pneumatic controllers or similar applications of standard 1553 requiring higher data rates.
"The card is designed for both laboratory and rugged, in-flight applications and is provided with powerful software that reduces development time," said avionics product manager Rick Schuh.
Available configurations include 1 or 2 dual-redundant, fully compliant 1553/1760 interface channels with 8 discrete lines usable for RT address lines and BC triggers. The P-10SF offers BC or single RT or Bus Monitor operational modes.
The P-10SF card is designed to industry standard conduction-cooled specifications and is available in commercial and extended temperature configurations. I/O connections are available from either the front bezel or via the P14 connector.
The 10Mbit 1553 technology is also available as an IP Core for user integration into Xilinx or Altera FPGAs with GE Fanuc's FlightCORE-10 IP product.
GE Fanuc Embedded Systems provides embedded computing solutions for industries and applications.