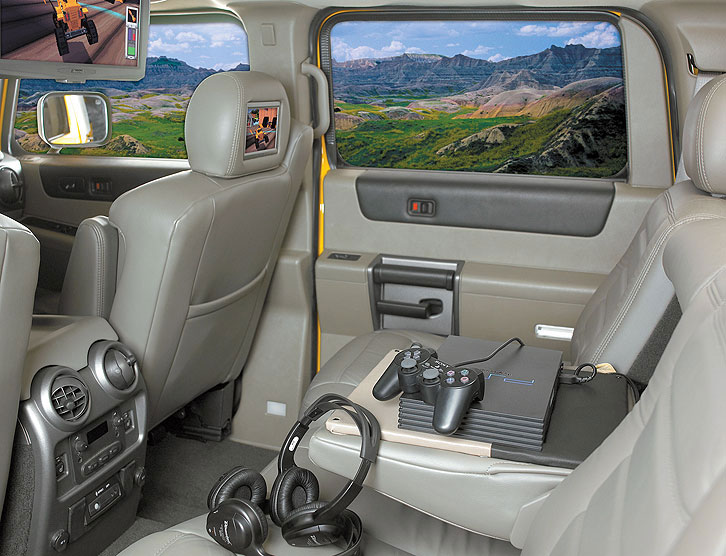 An increasing number of Americans are looking for a travel experience that is more entertaining, safe, and enjoyable.
Best Buy's Mobile Revolution Tour features a trio of concept cars, a Hummer H2, Nissan Quest minivan and a four-door Mazda 3, all fully equipped with accessories to ensure a safe and enjoyable summer road trip.
"As a leader in pairing consumers with the right digital solutions for their homes, offices and automobiles, we're demonstrating advancements in mobile electronics by bringing the experience directly to customers," said Mike Vitelli of Best Buy. "The Mobile Revolution Tour offers consumers an up-close look at today's leading mobile technologies and provides one-on-one advice to help them include these new options into their lifestyles."
The mobile electronics market has grown by double-digit levels annually, which is testament to consumers embracing Digital Living and to the surge in demand for products such as mobile video and DVD systems, gaming units, satellite radio, rear-view cameras and in-dash navigational systems.
Busy parents, business people, and gadget lovers all can benefit from new mobile technologies that improve safety, provide entertainment and manage travel logistics. The tour will supply innovative ideas on how to enhance life on the road by educating visitors about new products and custom installation services.
The Hummer H2 is especially appealing to upwardly mobile individuals who seek high-tech entertainment gear coupled with professional installation service. This concept vehicle features an Epic video system with four screens built into the headrests, a Directed Electronics widescreen monitor with wireless headphones, upgraded amplifiers and speakers, a Kenwood DVD player, an Omnifi automotive digital media player and a Sony PS2 Game System.
The Nissan Quest minivan appeals to busy suburban moms and dads with a combination of safety features including the Audiovox Babycam/Navigation system for improved back-seat viewing and path- finding, as well as family entertainment options such as the an overhead theater video system with multiple screens, wireless headphones and integrated DVD player.
The Mazda 3 offers solutions for the busy business professional who spends hours on the road. The vehicle includes a Gateway wireless laptop computer, Sony digital camera and HP photo printer, Pioneer AVICN2 In-Dash Audio-Navigation Center that provides in-dash touch screen with detailed map information, intuitive touch-panel operation as well as CD/DVD, satellite radio and MP3 capabilities.
In the tour this summer, Best Buy will take these fully-equipped vehicles on the road to give Americans a first-hand look at how mobile electronics can make their lives easier.