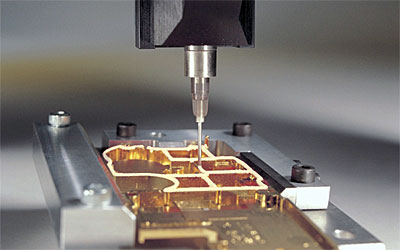 Laird Technologies introduced its new Hi-Strength SNL65HS Form-In-Place gaskets that are ideally suited for a broad range of applications where shielding, environmental protection and durability are key requirements.
The custom-designed system accurately dispenses conductive compounds onto intricate enclosures providing a custom-applied environmental and EMI shield. The high strength gasket is comprised of specially designed silicone with silver aluminum filler to complete the conductive elastomer in a cost-effective manner. This combination results in a durable and resilient gasket that offers excellent EMI shielding effectiveness and environmental security.
The unique compound is engineered to protect electronics from moisture, dust and other contaminants while providing a durable gasket that withstands component handling, assembly and frequent housing openings and closings thus extending the gasket and end-product's life.
Superior adhesion and gasket tear strength protect telecommunications infrastructure equipment applications such as power amplifiers, transceivers, wireless transceivers, and antenna housings. Handheld test and calibration equipment, automotive control modules, and high-power emergency radios are also improved.
Laird Technologies designs electromagnetic interference shielding.