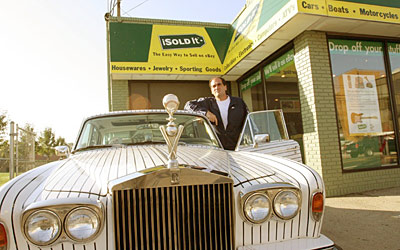 iSold It listed on eBay today a New York Yankees Pinstripe Rolls Royce, signed by more than 150 team members.
The owner, Vincent Caraccio, a resident of North Hutchinson Island, Florida lost everything he had -- his apartment, possessions and job, to recent storms.
"The one remaining possession I have is my New York Yankees Rolls Royce," said Vincent Caraccio. "I brought the car to iSold It because I've never sold anything on eBay, and the process just seems too complicated. iSold It is going to do all the work - and make it very easy for me to sell the car and help others with the proceeds."
"We are pleased to help Mr. Caraccio with his noble effort and will also donate our sales commission," says Craig Geiger, Farmingdale NY iSold It Franchisee. "He is selling this car in an effort to not only rebuild his life, but to also help those around him rebuild theirs."
The Car, a beautifully appointed 1977 Rolls Royce Silver Shadow, equipped with an AM/FM - CD Player, TV VCR, Navigation System and Sony Playstation has been customized to salute the most successful and dominant franchise in sports history.
The auction will run for ten days. The car has been valued by Baseball memorabilia experts at one million dollars and the opening bid will start at $50,000.
iSold It is a chain of eBay drop off stores listed on eBay.