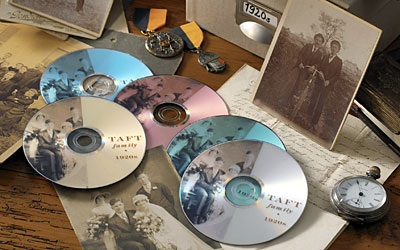 TDK's Print On recordable DVD media line enable customers to personalize every aspect of a disc by printing colorful, eye-catching images, text, and graphics directly on the DVD surface itself. Available in three products that are all formulated specifically for direct-on-disc printing, Print On recordable DVD media offers customers an attractive personal alternative to labeling kits and hand labeling. TDK Print On DVD media is designed for use with compatible inkjet printers, such as Epson Stylus disc-printable models.
Chris Bailey, TDK Director of Recording Media, noted, "In a relatively short period of time, DVD has become a mainstream recording format for home and business applications. Although today's customers rely on DVD media to store important data and cherished memories, they haven't - until now - had an opportunity to create discs that have a fully finished, totally professional appearance." He continued: "By giving customers the ability to easily create DVDs that equal the appearance of professionally produced discs, the new Print On DVD line blurs the distinction between discs that were inexpensively recorded at home and those that were created with large production budgets."
To satisfy a broad customer base, TDK will offer three Print On DVD products - Print On DVD Photo Quality, Print On DVD White Matte, and Print On DVD Color Matte. All three products will be available in both DVD+R and DVD-R formats, in a variety of pack configurations, including spindles and DVD-style movie cases.
The flagship product, Print On DVD Photo Quality, incorporates a high gloss, inkjet-ready surface that enables printing high-resolution, color-accurate images and graphics on the disc. With Print On DVD Photo Quality, reproduction of image files captured by today's high-megapixel digital cameras is literally picture-perfect, and text, such as DVD chapter names, also comes out looking crisp and clear on the disc surface.
Print On DVD White Matte is ideally suited for a variety of applications ranging from the distribution of corporate reports to sharing birthday videos and photos. Featuring a white matte, inkjet ready finish, Print On DVD White Matte gives images printed on the disc surface a softer, classic appearance. Text has a professional look and is highly legible even when printed in a small font.
Print On DVD Color Matte also has a matte, inkjet ready finish, but adds a colorful twist. Each disc's printable surface is tinted in one color - red, blue, green, gold or silver. Printed images and text take on a distinctive, fun look, but still retain their professionally-printed quality. Print On DVD Color Matte discs are a great way to spice up basic label designs without any extra effort.
Best of all, TDK's new Print On DVD discs are manufactured to Certified Plus quality standards, ensuring that discs will have the highest degree of data integrity - along with great looks.
TDK Print On recordable DVD media will be available in fall 2004. Estimated street prices are as follows: Print On DVD Photo Quality, $19.99 5-pack; Print On DVD White Matte, $9.99 5-pack; and Print On DVD Color Matte, $9.99 5-pack.
TDK was established in 1935 to commercialize ferrite, a key material in electronics and magnetics.