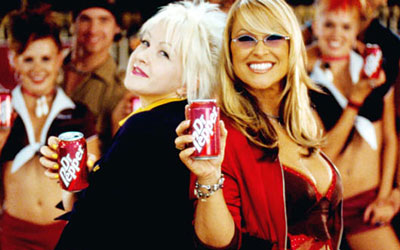 With growth momentum regained in 2002 due to a continued sharp rise in Diet Dr Pepper sales, stabilization of its flagship regular Dr Pepper brand volume and the introduction of Red Fusion, executives at the annual Dr Pepper bottler meeting today unveiled aggressive 2003 advertising and marketing plans to the crowd of 1,400 in attendance at the Hilton San Francisco. In addition, the company announced its intention to introduce a diet version of Red Fusion that will debut in spring 2003.
"Research has told us that the Dr Pepper trademark is underdeveloped in much of the nation, and that per capita consumption could be substantially increased by refining our otherwise solid marketing and advertising programs," said Doug Tough, Dr Pepper/Seven Up, Inc. president and chief executive officer. "In 2001 we introduced the Dr Pepper Volume Impact Plan (VIP), with the specific goal to increase per capita consumption of the Dr Pepper family of brands. While last year was challenging for several reasons, especially due to uncontrollable external factors that affected the soft drink business, this year we have started to see the fruits of the collaborative labor we, and our bottlers, have expended to grow Dr Pepper."
Through Aug. 10, 2002, Diet Dr Pepper volume is up 5.4 percent versus the same period in 2001 according to ACNielsen, and Red Fusion, the first Dr Pepper flavor extension in its 117-year history, is performing above expectations and forecasts even without a concurrent rollout by all bottlers. Nielsen data points to an increase in Dr Pepper trademark market share through Aug. 10, 2002, with a two-tenths-of-a-point improvement from one year ago.
"The Volume Impact Plan is working, with total Dr Pepper per capita consumption up in 2002," continued Tough. "Research led us to do a better job reaching out to ethnic consumers, and we have worked hard to do just that in all of our advertising and marketing efforts. In fact, to a large degree, Red Fusion resulted from consumer testing conducted with urban youths. It is important for us to reach all consumers," explained Tough. "We will concentrate on availability and distribution as the engine that continues to propel consumer trial and brand awareness," he concluded.
New Dr Pepper and Diet Dr Pepper television advertising was unveiled at the meeting. Highlights include:
Dr Pepper continues its "Be You" campaign aimed at linking the original taste of the brand with the originality of its consumers. In a continuation of the campaign that began in 2001, the three new 30-second television commercials feature contemporary recording artists paying tribute to classic artists in a specific genre. Using a bowling alley as the setting, the "mainstream" commercial features singer Anastacia paying tribute to Cyndi Lauper. The "urban" scene features LL Cool J paying tribute to rap group Run DMC in a meeting that could only take place in big city America. A distinctively Latin beat takes place in a plaza setting that features Paulina Rubio paying homage to Celia Cruz in a commercial that has both English and Spanish versions. All three will begin airing early in 2003.
Diet Dr Pepper continues its highly successful campaign of entertainment and celebrity parodies that prove few things are quite as good as the original, but "Diet Dr Pepper Tastes More Like Regular Dr Pepper." The three 30-second commercial parodies of entertainment and celebrities are titled "3" (the feature film "10"), "Retirement Village People" (the group Village People) and Medieval Knievel (Evel Knievel). These three commercials will debut in early 2003 and 15-second versions will also be available.
Red Fusion will continue to utilize the four, 15-second commercials that first aired in August 2002, Last Drop, Straw Wars, Taste Buds and Sweatin.
"Measurements we employ tell us that Dr Pepper advertising connects with American consumers in a big way, and we will continue to build upon those increasing levels of brand and advertising awareness," stated John Clarke, Dr Pepper/Seven Up chief advertising officer. "People have come to expect lively and entertaining advertising from Dr Pepper and they won't be disappointed with the commercials for our regular and diet brands in 2003. "
Marketing programs for 2003 include four national promotional periods that will focus attention on the Dr Pepper trademark and engage millions of consumers in a variety of fun-filled activities offering a myriad of valued prizes. The promotional activities include:
Promotional drive period number one takes place January through March with two programs. One, a tie-in with Orville Redenbacher's(TM) Popping Corn will leverage the power of two great brands during the heavy football season consumption period in January. The offer will increase incremental retail tie-in display activity through offers for free Dr Pepper with the purchase of Orville Redenbacher's(TM) Popping Corn. An "American Safari" promotion will take place in the February through March timeframe and offers consumers a chance to win trips and Jeep Liberty Renegade SUVs or others prizes.
The second promotional period will run from April through July and will involve a tie-in partnership with the spring release of the X-Men 2 film by 20th Century Fox. Also during the second promotional period, Dr Pepper will leverage its sponsorship of the Professional Rodeo Cowboys Association's National Finals Rodeo in Las Vegas, with a promotion available to bottlers in the July and August timeframe.
Football season means the third promotional period will once again feature college gridiron activities, including the popular and growing Big 12 and Southeastern Conference (SEC) tie-ins and a chance for consumers to win up to $1 million dollars in championship game halftime events for both conferences.
The 2003 period four holiday promotion will be finalized in late spring 2003 with the goal of capitalizing on hot consumer trends.
"Our promotions and other marketing programs are designed to provide added value to consumers in a way that assures growth for the Dr Pepper franchise at its historic levels of one-and-one-half to twice the carbonated soft drink category," said Cindi Clark, Dr Pepper senior vice president-marketing. "By adding value, our marketing programs encourage consumers to make repeat purchases. In addition to our promotions, we have a terrific line-up of sponsorships and tie-ins, including the sponsorship of a NASCAR Busch Series racing team, title sponsorship of the Dr Pepper Big 12 Championship Football Game, the Teen Choice Awards, Academy of Country Music Awards, Latin GRAMMY Awards, Golden Globe Awards, Hispanic Heritage Awards, Cotton Bowl Classic football game, Tournament of Roses Parade and other properties that excite our consumers."
Supplementing new Dr Pepper marketing and advertising efforts in 2003, the recently released Red Fusion will be joined by a diet version of the drink in spring 2003. "Consumer demand encouraged us to pursue a diet version of Red Fusion, which is under development," Clark disclosed. "We will not compromise on the taste and the flavor will be as close to regular Red Fusion as we can make it. We established the 'gold standard' for diet soft drinks when Diet Dr Pepper was introduced in 1991, and Diet Red Fusion will follow in that tradition."
Dr Pepper is also aggressively pursuing incremental sales in the fountain/food service channel, where Americans spend 54 percent of their food dollars each year. Fountain/food service remains important to Dr Pepper for consumer trial, as well as providing consumers with freedom of choice.
To date in 2003, the Dr Pepper fountain division has sold more than 10,000 new availabilities for the brand. In addition, a frozen version of Dr Pepper has been improved and is being sold to fountain accounts, and a fountain version of Red Fusion was created.
Expanding Dr Pepper fountain presence, 7-Eleven has placed a frozen Slurpee version in about half its stores, and will add it to all new equipment rolled out in 2003. The "Pepper the Store" cold drink initiative has generated annualized account activity totaling more than one million new cases of fountain/food service channel. "It is an important part of our business," stated Clark. "About 154 million Americans dine out daily, and Dr Pepper is available to less than half of them. We have a great opportunity to grow this business and provide consumers with access to Dr Pepper wherever they dine."
Dr Pepper is the leading brand of Plano, Texas-based Dr Pepper/Seven Up, Inc., which is the largest division of London-based beverage and confectionery firm Cadbury Schweppes plc (NYSE: CSG) . Dr Pepper/Seven Up is the largest producer of non-cola soft drinks in North America, with about 16 percent of the carbonated soft drink market. In addition to Dr Pepper, the company's other leading brands include 7 UP, A&W, Sunkist, Canada Dry, Squirt and Hawaiian Punch, as well as the RC Cola and Slush Puppie brands.