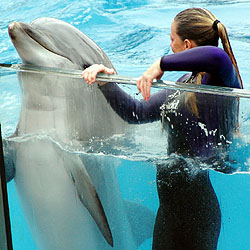 Help save the lives of hundreds of dolphins by joining a group of dolphin enthusiasts headed to Japan on September 2nd to inaugurate the first international dolphin watch out of Futo, a village where dolphins were formerly killed by the thousands. Oceanic Society Expeditions, in cooperation with the nonprofit organization Blue Voice, co-founded by screen actor Ted Danson and wildlife cinematographer Hardy Jones, is supporting the effort of local fisherman Izumi Ishii, who wants to replace the dolphin drive fishery in his village with educational dolphin watching.
Once a former outspoken advocate of capturing and killing dolphins, Ishii-san (Mr. Ishii) has decided not only to never kill dolphins again but to start a dolphin watching business. Ishii-san hunted dolphins for about 30 years. His father, grandfather and great- grandfather had hunted whales and dolphins. "I have been moved by the sight of pods of dolphins and sometimes forgot my job as a hunter even when I was hunting them."
In 1999 modern technology collided with this tradition when video of the brutal slaughter of these dolphins aired on television screens around the world. New, tougher regulations on dolphin hunting have made this activity economically less attractive. Ishii-san is a businessman and now considers that he will make more money with dolphin watching than hunting. "The value I now see in dolphins is not the value of their meat, but of the wonder they incite." But Mr. Ishii does not want to keep his new business exclusively for himself. "The most important thing is that I succeed in the dolphin watching business. If I can succeed in it, other fishermen in Futo will follow me."
"The transformation from killing dolphins to dolphin watching is a huge step forward. It not only spares the lives of hundreds of wonderful animals from cruel slaughter but also provides income for the fishermen of the area. I've seen the ghastly footage of the dolphins being killed. Now I look forward to knowing the joy living dolphins will bring to hundreds of people who venture out to sea to be with them," said Ted Danson, co-founder of BlueVoice.
Located on the beautiful Izu Peninsula, Futo is a charming village within view of Mt. Fuji. The nutrient rich coastal waters attract thousands of marine mammals and seabirds. Daily boat excursions will be made to observe cetaceans, such as the beautifully marked striped dolphins, bottlenose dolphins and pilot whales, as well as seabirds, including ancient murrelets and short-tailed shearwater. As guests of Mr. Ishii, we will be introduced to Japanese culture visiting historic sites, local museums and gardens, and meeting with community members. Accommodations are in a comfortable village inn operated by a Japanese family; the food is fantastic. Expedition dates: September 21-29, 2002; cost: $2,090.
This is a wonderful opportunity to do something positive for the environment while exploring the natural world and experiencing Japanese culture.