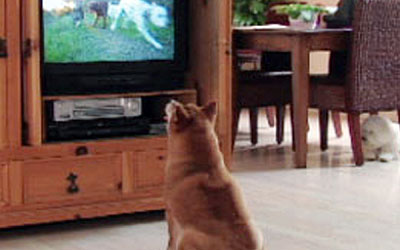 Doggy Daycare DVD is the ultimate gift to give and get this holiday season. The entertainment property created by NBA Houston Rockets owner, Leslie Alexander, not only enriches the relationship between dog and owner, but also betters the lives of less fortunate animals and the charities that serve them.
All of the profits from the sale of each DVD are donated to the Humane Society of the United States, Best Friends Animal Society, Wildlife Rescue and Rehabilitation, and the Animal Rescue Fund of the Hamptons.
"Adopting a shelter dog has enriched my life. I'm excited to have found a way to further support the valuable services provided by shelter organizations across the country," says Executive Producer, Leslie Alexander. "Money raised from the sale of Doggy Daycare DVD will help valuable groups make sure these animals receive proper care and nutrition until a home is found for them."
The American Pet Association reports more than 31 million dog owners will purchase a gift for their dog this holiday season. Alexander is confident Doggy Daycare DVD will be among their top choices, as evidenced by the Animal Radio Network's pick of the DVD as among the top ten must-haves for the pet that already has everything.
Mathilde de Cagney, the trainer of Eddie from the Frasier TV show, compares Doggy Daycare DVD to the wildly popular Baby Einstein series for children. Says de Cagney, "The beautifully composed dogs-eye-view cinematography and deftly crafted sound effects track come together to create a very soothing atmosphere for dogs."
Called eminently watchable by The Bark magazine, Doggy Daycare DVD was created with the help of veteran K-9 trainer Bill Grimmer, cinematographer Jeff Roberts, and sound effects editor Miguel Rivera.