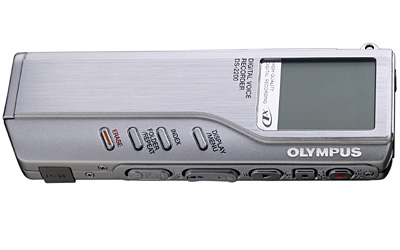 Olympus has introduced the new DS-2200, a high-performance digital audio recorder with high recording quality and extensive functionality.
The DS-2200's stereo microphone enables recording in stereo to pick up both sides of a conversation with equal clarity, which is ideal for interview situations. At the highest quality recording setting, the DS-2200 can record 4 hours and 20 minutes to the high-capacity 128MB removable xD-Picture Card provided; in the long play mode it can record nearly 45 hours. Other features like multiple folders to save and organize files, and a USB docking station for quickly and easily downloading and uploading files to and from a PC or Mac, make this technically sophisticated device simple to operate.
"The DS-2200 is an attractive compact digital voice recorder with high-performance features that really make it stand out," said Andy Flagg, senior national sales manager for Olympus America. "From the stereo microphone for recording interviews, to the high-capacity removable memory media card that can be upgraded to add even more recording time, the DS-2200 is the ideal tool for doctors, lawyers, reporters, and other professionals who rely on their voice recorder to capture essential audio throughout the long workday."
This model meets professional users' needs for both first-rate sound quality and long recording times. Files are saved in the high quality, high compression file formats DSS and WMA, and users can easily switch between four quality modes to suit their requirements.
For saving important interviews and discussions, attach the supplied stereo microphone ME51S to benefit from the stereo high quality (SHQ) mode. In addition to the stereo microphone, the DS-2200 also offers a remote control that doubles as a clip microphone that can attach to a jacket or suit while the recorder is tucked away in a pocket. The stereo earphones allow the user to listen discreetly to confidential recordings.
Users of the DS-2200 will revel in their ability to seemingly control time with different playback settings. After capture, the slow playback option allows recordings to be listened to efficiently with playback that is 25% slower than real time. Or, with fast playback, recordings can be played 50% faster than real time. With slow playback users will be less likely to rewind to hear what was said, and with fast playback they can skip ahead to the essential sections - a real benefit for transcribing dictation.
In addition, with the Repeat Playback function, the DS-2200 can repeatedly play back a particular user-selected section of audio recording - ideal for transcribing dictation. The Variable Control Voice Actuator (VCVA) setting ensures that recording begins only when the sound is sensed.
Whether in the hand or tucked away in a shirt or a jacket pocket, the DS-2200's slim, ergonomic full-metal body with elegant, brushed silver finish is sure to appeal to anyone who appreciates beautiful design in a package they can take anywhere. Measuring a mere 4.31" x 1.56" x 0.6" (H x W x D) and only 3 ounces, the compact, lightweight DS-2200 fits comfortably in the hand of the on-the-go professional.
The DS-2200 has five separate file folders with 199 files in each folder to allow users to organize nearly 1,000 files according to personalized subjects, such as "work," "personal," and "to do." Alarm playback can also be programmed for meetings, dates, show reminders or wake-up calls. The user simply dictates reminders into the DS-2200, such as "Time to depose the witness!" or "Time to hit the links!" and assigns a time for this message to go off like an alarm clock alarm.
Particularly relevant moments in an interview, briefing or lecture may be flagged - either during or after recording - using the index marks for quick retrieval. To prevent accidental deletion important files may be locked.
Back at the PC or Mac, the USB docking station enables quick downloading or uploading of the voice files. Because the DS-2200 uses the xD-Picture Card that's used in most Olympus digital camera models, both image and audio files may be saved on the same card that's shared by both devices. While a 128MB xD-Picture Card can be purchased on its own, if purchased with the DS-2200 this card can shared with an Olympus digital camera to offer even more value.
The DS-2200 recorder features a large, backlit, easy-to-read LCD screen that reveals file information, recording time and events. A speaker for audio playback is located on the back of the recorder. The included user-friendly DSS Player Pro software facilitates the archiving, editing and further processing of the recordings.
A perfect addition to the DS-2200 is the AS-3000 transcription solution (sold separately). The transcription software, along with supplied footswitch and headset, allows a transcriptionist to playback individual channels (left, right, or both) while accessing those files recorded on the DS-2200 in its entirety. This functionality is particularly useful when the DS-2200 is used in a courtroom environment when two microphones can be attached to the recorder and two individuals can be recorded at the same time in mono.
In addition, the DS-2200 is available as part of a Digital Conference Kit. This lets the user record every word at larger gatherings. Besides the high performance digital voice recorder, it contains two AKG omni-directional microphones for 360 degree coverage and a 98.4-inch Y-connection cable plus more, all protected by an aluminium case.
The DS-2200 Digital Voice Recorder has up to 16 hours of continuous operation made possible by the long battery life of two AAA batteries.
The DS-2200 will be available from May 2004 exclusively from a network of professional authorized digital dictation specialists. It comes with 128MB xD-Picture card, Stereo Microphone ME51S, Remote Controller Built-in Microphone, Stereo Earphones, DSS Player Pro Software (dictation module), USB cable and docking station, Batteries, Carrying Case, and Handstrap as standard accessories.
Main Features of the Olympus DS-2200
Professional-level 2 channel stereo digital interview recorder with removable media
Slim, elegant full-metal body with brushed silver finish
Over 4 hours SHQ (Stereo High Quality) recording with included stereo microphone ME51S on 128 MB card. (Over 17 hours of SHQ recording with optional 512MB card)
High compression, high quality formats (DSS/WMA)
4 recording settings (SHQ/HQ in WMA and SP/LP in DSS)
Maximum recording time 44 hours and 45 minutes in LP mode with 128MB xD-Picture Card, or 179 hours, 30 minutes with optional 512MB card sold separately
Noise cancelling feature for clear voice quality
5 folders for file management (up to 199 files in each folder)
Easy PC connectivity with USB docking station
DSS Player Pro software for downloading, organising and playback of DSS and WMA files and sending via email
DS-2200 Digital Voice Recorder Estimated Street Price will be U.S. $289.99.