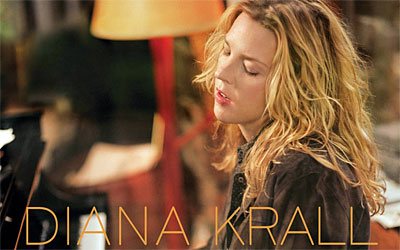 Starbucks and Hear Music have released Diana Krall Artist's Choice, the ninth addition to Hear Music's signature Artist's Choice CD series. The new compilation album features an array of music from great artists such as Elvis Costello, Count Basie, Randy Newman and Duke Ellington. Exploring the album will give customers an intimate look into Krall's personal memories and the inspiration that has shaped her career as a jazz pianist. Hear Music invites customers to experience Krall's musical influences through the selections on her Artist's Choice CD.
"Diana Krall Artist's Choice provides an opportunity for Hear Music customers to learn the origin of Krall's emotional music style," said Don MacKinnon, vice president of Music and Entertainment at Starbucks. "Her style has been influenced by some of the greatest musicians of our time, musicians who span a number of decades and genres, and it's exciting for Hear Music to help our customers discover these artists through Krall's selections on the album."
Excerpts from Krall's interview are printed on the liner notes of the CD, which share how each song and artist that she selected represents a significant memory or emotional connection in her life. She also discusses the education she received from her mentor, the great jazz pianist, Jimmy Rowles; why one of her favorite songs is one that is sung by her husband, Elvis Costello; and how an Oscar Peterson record fueled her desire to play the piano.
"These are all records that I love, and I have an agenda," commented Krall on her choices for her Artist's Choice album. "Now when people ask me about all these artists they don't know, they can listen to this and they'll know who people like Jimmy Rowles are."
Diana Krall Artist's Choice CD is available today at Hear Music and Starbucks retail locations for $14.95. The recording features tracks from Elton John, Lucinda Williams, Joni Mitchell, Ernestine Anderson, Count Basie, Oscar Peterson, Bill Evans, Jimmy Rowles, Carmen McRae, Elvis Costello & The Attractions, Randy Newman, Duke Ellington, Mahalia Jackson, The Band with The Staple Singers, and Robert Merrill and Jussi Bjoerling.
Previous Artist's Choice compilations are available from Sarah McLachlan, Willie Nelson, Rolling Stones, Sheryl Crow, Ray Charles and others. Hear Music will release its tenth addition to the compilation series with Emmylou Harris Artist's Choice in October 2004.
Hear Music, with a catalog of more than 100 CD compilations, handpicks songs from new and classic records to create CDs that help people discover music they might not hear otherwise. Hear Music creates music programming and CDs for Starbucks coffee houses.
Starbucks has more than 8,000 retail locations in North America, Latin America, Europe, the Middle East, and the Pacific Rim.