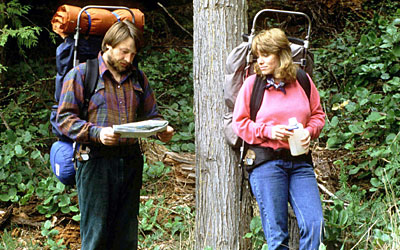 CSI Wireless has introduced a Differential GPS (DGPS) receiver with built-in Bluetooth wireless technology. Thanks to Bluetooth, the PowerMAX communicates wirelessly with the user's computer or hand-held computing device, eliminating the need for a hard-wired data link between the devices.
The PowerMAX, which CSI unveiled today in Nashville, Tennessee during the annual American Congress on Surveying and Mapping (ACSM), is primarily aimed at the Geographic Information Systems (GIS) and Mapping market. However, the product's wireless technology may be used in any industry to simplify communication between devices.
In GIS & Mapping, the PowerMAX improves system ergonomics for surveyors, utilities and forestry personnel, field engineers and other professionals by reducing their cable connection requirements.
This differential GPS is the world's first affordable, professional mapping-grade receiver featuring Bluetooth wireless technology. It features the same dependability and value for which other members of CSI's MAX family of DGPS receivers - the DGPS MAX and the mini MAX - are renowned.
"PowerMAX is the next generation in our family of DGPS receivers, and an ideal marriage of our expertise in both Differential GPS and wireless technology, said Stephen Verhoeff, CSI's President and CEO. "We have already received several purchase orders for the PowerMAX - including one from 3D Marketing, a leading U.S. government supplier - and we will begin shipping our first units later this quarter."
The DGPS capability means that in addition to standard GPS signals, it receives accuracy-enhancing Differential signals to achieve sub- meter positioning accuracy. The PowerMAX can receive DGPS signals from ground- based beacon stations, and from space-based augmentation systems - including the U.S. Wide Area Augmentation System (WAAS), Europe's EGNOS, and Japan's MSAS.
The unit also features CSI's exclusive COAST technology that enables a receiver during signal outages to use old location data for a half hour or longer without significant deterioration of positioning accuracy.
Bluetooth wireless technology offers a low-cost method of wirelessly connecting mobile devices over short distances, typically a few meters. The PowerMAX, when equipped with CSI's PocketMAX software that works with all of CSI's MAX products, uses Bluetooth wireless technology to enable users to wirelessly configure the receiver and conduct cable-free data-logging functions in the field. The Bluetooth trade mark is owned by Bluetooth SIG, Inc. and is under license to CSI Wireless Inc.
The Global Positioning System (GPS) is a constellation of 24 U.S. government satellites that circle 13,000 miles or 22,000 kilometers above Earth. A ground-level GPS receiver, using pre-programmed data, knows where each satellite is in its orbit. The receiver compares this information with the amount of time required to receive each satellite's signals at ground level, to calculate or "triangulate" a specific geographic position on Earth. The accuracy of GPS can be significantly enhanced via corrective Differential GPS signals, from ground-based beacon stations or space-based augmentation systems.
CSI Wireless designs and manufactures innovative, cost-effective, wireless and GPS products for mobile and fixed applications in the agriculture, marine, automotive and other markets.