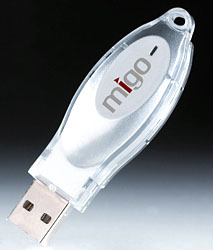 Forward Solutions received the XChange XCellence Award for its flagship product Migo, a revolutionary new mobile computing system in a sleek, key-sized USB-based flash memory device. Launched in September, the Migo offers functionality beyond basic portable USB storage devices, combining state-of-the-art hardware and software with automatic file and e-mail synchronization and multi-level security.
The Migo's PocketLogin software automatically synchronizes Microsoft Outlook e-mail accounts, including contacts and calendars -- allowing users to send and receive e-mail while away from their desktops. When users return to their desktops, all of their work and changes are updated to their systems. PocketLogin's synchronization and management software also automatically checks for software and firmware upgrades each time users plug their Migos into the USB ports of Internet-connected PCs.
Forward Solutions was honored at an awards ceremony held at the CMP Media XChange Tech Innovators Conference on October 27 in Phoenix, Ariz. Winners were nominated and voted on by solution providers from across the industry. Forward Solutions was chosen as the leading tech innovator in the software category from a pool of about 35 nominees. Award criteria included innovation and strong market potential.
"We're extremely honored to receive this award. It is especially meaningful to us because the voting was done by solution providers who are out in the field with our target market every day," said Joshua Feller, president and chief operating officer of Forward Solutions. "This endorsement reinforces our belief that Migo's software makes it the most advanced portable personal computing system on the market."
Forward Solutions delivers systems-based solutions that address accessibility and mobility of information with products and services that are portable, secure, efficient, easy-to-use and convenient.