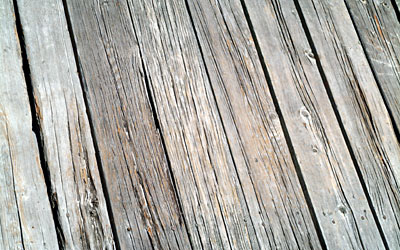 For the 30 million deck owners across the country, autumn usually signals the end of backyard entertaining, and the start of preparing their wood for the cruel winter months ahead.
By autumn, exposed wood yearns for oils to be replenished after being battered by increased UV exposure. And as the days get cooler, what can damage a deck initially is not the expected snowfall, but the wet leaves and pine straw that inevitably fall in October and November. Leftover precipitation is absorbed by unprotected wood, making the deck softer and more vulnerable to the forces of nature. This all translates into a shorter lifespan for a deck, and a less desirable appearance.
After months of sunshine (and plenty of rain), pets, barbecues and other culprits taking their toll on the backyard deck, now is the ideal time to give the wood a little sprucing up.
Given the record rainfall in parts of the country these past several months, there certainly are many decks desperately in need of care and attention this season. Not only did the rainfall play havoc with wood, but the weather may have prevented homeowners from tackling even a springtime maintenance project.
According to a national survey conducted by The Flood Company, the makers of exterior wood care products, nearly one-third of adults who were planning to undertake an exterior wood sealer or stain project this season postponed the work due to the weather. This means that this fall season will be one of the busiest in recent memory in terms of homeowners undertaking a fall exterior wood maintenance project.
"There's no doubt the weather played a role in deck maintenance this spring and summer," said product manager Pat Coughlin. "All these people are going to have to finally take care of their backyard living rooms this fall. And those who didn't feel the effects of the weather still need to take care of their wood before winter arrives."
The first step is to thoroughly clean the deck. This may seem obvious, but unfortunately most people believe decks are self-cleaning, Coughlin says. A product such as Flood's Dekswood, a deck cleaner and brightener, removes all remnants of food, dirt and mildew, and restores natural color and beauty to gray, weather-beaten wood, without harmful bleaching. Dekswood doesn't harm the deck's natural surroundings such as plants, shrubs, and lawns.
For those who ultimately need to remove any faded, deteriorated or unwanted colored coating, Coughlin suggests using a combination deck sealer remover and cleaner, such as Flood PowerLift. This powerful product removes build-up of sealers and clear finishes, and rids the deck of any dirt and grime. PowerLift, which does not contain bleach, also works to reduce mill glaze on new wood.
Now with a clean, stripped deck it's easy to apply a beautiful new finish that will hold up and look great once the weather breaks in the spring.
"The end of the summer season is also the time to re-evaluate what stain or finish currently exists on the wood and determine what you want the deck to look like next year," said Coughlin. "The key to saving money and preserving beauty is to maintain the deck during this critical period."
One product that delivers beauty and protection is Flood's CWF-UV, an oil-based clear finish that stands strong against harmful UV rays. Unlike typical wax or silicone sealers that just sit on the wood's surface, CWF-UV penetrates deep into the grain for ultimate protection. Flood's CWF-UV oil finish revitalizes a dull looking deck, while protecting it from the elements. And with a clear wood finish, the natural wood grain is allowed to show through.
If left unprotected, a deck can be easily damaged and quickly become an expensive addition to the house. Seasonal maintenance will keep costs low and your deck looking new. Anticipating the fluctuating fall weather will be key to keeping up a long-lasting deck, since a little fall preparation is the best defense against plunging temperatures and wet weather that ultimately harm a deck.
Don't view the fall as the end of the summer, but as the start of a beautiful spring for your deck. By protecting your deck, it will last longer and be a place of enjoyment, pride and relaxation for years to come.