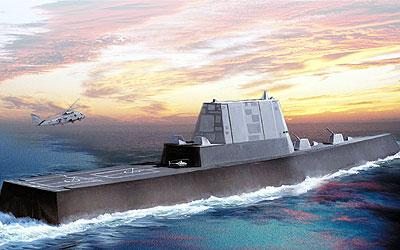 An artist's rendition of the 210-meter (689 feet) DD(X) destroyer design by a Northrop Grumman Corporation-led team selected by the U.S. Navy to complete the system design for the Navy's advanced, 21st century surface combatant, DD(X).
U.S. Navy Selects Northrop Grumman-Led Gold Team For DD(X) System Design Contract - $2.9 Billion, Four-Year Program Will Produce Designs for Next-Generation, Transformational Surface Combatants
Northrop Grumman Corporation announced today that the U.S. Navy has selected a team led by the company to complete the system design for the Navy's advanced, 21st century surface combatant, DD(X).
Northrop Grumman's Ship Systems sector will lead the system design, engineering prototype development and testing of the DD(X) System under a $265 million contract awarded today by the Navy. The team includes Raytheon Company as mission systems integrator and more than 30 of the nation's top engineering and maritime industrial companies.
The initial design contract has a total value of approximately $2.9 billion over four years.
"We are very pleased and proud that our DD(X) Gold Team was selected by the Navy. This revolutionary program reinforces our strategy, begun more than a decade ago, of repositioning Northrop Grumman for the changing nature of military conflicts. This is a very important win for our company and we look forward to working with Raytheon and our other team members to complete this initial phase of the program," said Kent Kresa, Northrop Grumman chairman and chief executive officer. "The DD(X) is the centerpiece of the Navy's 21st century transformation and is the cornerstone program for a family of surface combatants to be designed and built over the next 25 years. I am extremely proud of our employees at Northrop Grumman Ship Systems for leading this effort as well as our other operating sectors and outstanding teammates who contributed to the success of the Gold Team's proposal."
This family of ships includes destroyers, cruisers and littoral combat ships, as well as technology to be backfitted into today's existing fleet of Aegis-equipped cruisers and destroyers.
In addition to four other Northrop Grumman sectors -- Newport News, Information Technology, Electronic Systems and Integrated Systems -- the DD(X) Gold Team will include United Defense (NYSE: UDI) and Raytheon. The team will also be joined by DD(X) Blue Team members General Dynamics' (NYSE: GD) Bath Iron Works and Lockheed Martin Corporation (NYSE: LMT) .
"Our team's proposal included a bold approach to the development of the very best ship design and propulsion technologies the country has to offer in fielding the next generation of surface combatants," said Dr. Philip A. Dur, corporate vice president and president of Northrop Grumman Ship Systems. "Northrop Grumman has delivered 70 advanced cruisers and destroyers to the Navy's surface fleet since 1975. Our vast experience in shipbuilding, coupled with our expertise in next-generation technologies, will result in a forward-looking approach to the design and testing of ship systems for the DD(X). Together with Raytheon's information technology, sensors and combat systems, our team will deliver the most capable, most survivable family of ships ever produced."
This phase of the program will initially employ more than 350 Northrop Grumman Ship Systems management, engineering, operations and logistical support personnel over the next four years.
Northrop Grumman Ship Systems, headquartered in Pascagoula, Miss., includes facilities in Pascagoula and Gulfport, Miss., as well as New Orleans and Tallulah, La. The sector, which currently employs more than 17,000 shipbuilding professionals, primarily in Mississippi and Louisiana, is one of the nation's leading full service systems companies for the design, engineering, construction and life cycle support of major surface ships for the U.S. Navy, U.S. Coast Guard and international navies, and for commercial vessels of all types.
Northrop Grumman Corporation is an $18 billion, global defense company with its worldwide headquarters in Los Angeles. Northrop Grumman provides technologically advanced, innovative products, services and solutions in defense and commercial electronics, systems integration, information technology and nuclear and non-nuclear shipbuilding and systems. With nearly 100,000 employees and operations in 44 states and 25 countries, Northrop Grumman serves U.S. and international military, government and commercial customers.